Welcome back, Grey's Anatomy fans, to our Monday morning tradition, the Grey's Anatomy Insider Caption Contest - now in its 109th consecutive week.
Who won this week? Well, we don't often do this, but the very first submission was our favorite - and we think many Caption Contest fans agree. It's iloveder!
Congratulations. The winning entry appears below the photo, with the full list of entries further down the page. There were a bunch of great ones sent in!
Thanks to all of you for visiting us, playing the Caption Contest and making this the #1 Grey's Anatomy site online. Good luck again this week.
Here is this week's Caption Contest image: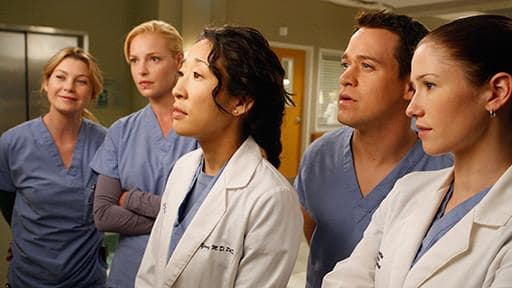 George: Is this the staff list for season five?
Lexie: Yea. Everyone's on here. Derek, Christina, Bailey -
Cristina: But there's one person missing.
Izzie: Who?
Meredith: Rose. (SMILES SO BIG HER FACE CAN'T EVEN HOLD IT)
Steve Marsi is the Managing Editor of TV Fanatic. Follow him on Google+ or email him here.