Welcome back to the Gossip Girl Insider Round Table!
While Gossip Girl fans gather in the Woman On the Verge" include our favorite Gossip Girl quotes, the future of Dan and Serena, next week's wedding and more ...
~~~~~~~~~~~~~~~~~~~~~~~~~~~~~~~
1. Are Dan and Serena over for good?

DANdy: Yes. Dan Humphrey values honesty above all else. Serena has already misled him about never having inadvertently killed a man hoping for a videotaped threesome, while outwardly lying about cheating on him. Dan can't trust her ever again.
Mister Meester: Sadly, I think so. Serena drove him away, but the video Georgina's going to make of herself getting spanked by Dan will be impossible for S to forget, let alone forgive.
Gossip Guy: As I've professed in previous round tables, Gossip Guy <3's Derena. However, Serena has been treating Dan like poop. I don't care if she thinks she killed someone and Dan puts her on a pedestal. Dan is not only your man, he is the man. How can you not confide in him, Serena? Telling him you cheated on him with three guys? First off, gross. Second off, I want Dan to move on. Just don't move on with Sarah / Georgina!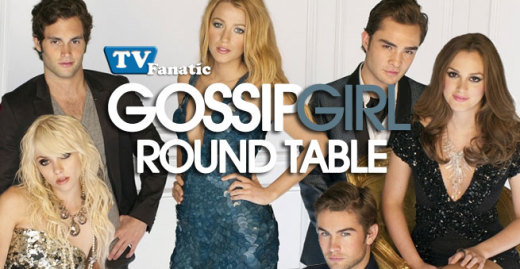 2. What was your favorite Gossip Girl quote of the night?


DANdy: Chuck's response to Blair asking how he'd react if she knew where Georgina was: "Let's get the bitch," snarled in perfect Chuck Bass drawl.

Mister Meester: Any time the parents call Chuck Bass "Charles." Usually one's full name is reserved for occasions when one screws up. When you're a particularly bad seed, you get it all the time.

Gossip Guy: Oh this is easy. When each of Serena's friends in saying what terrible things they've done and Chuck simply answers, "I'm Chuck Bass." As much as I would have loved for Chuck to go over his laundry list of bad deeds, his name was merely enough. He's so deliciously evil.

3. Will Vanessa and Nate ever go on a real first date?


Mister Meester: Unless Nate inexplicably hooked up with Lisa Loeb after the show, then yes, at some point. Things have been chaotic lately but you can see that spark. Real dates are very much to come.

Gossip Guy: I could only wish they wouldn't. Go away Vanessa. And take those pretty eyes with you.

DANdy: Nate sure hopes so. After all, if Vanessa (Jessica Szohr) will make out with him - at least - inside a locked coffee shop, we can only imagine what she'd do if he bought her dinner first.

4. Do you believe Sarah's story about her ex-boyfriend?


Gossip Guy: What do Santa Claus, the Tooth Fairy, and Sarah's ex-boyfriend all have in common? They all hate Sarah. Err, I mean they don't exist.

DANdy: No. It just seems too far fetched.

Mister Meester: A bit too coincidental, don't you think? My theory: Georgina is a stupid name and she wanted to go by a normal one like Sarah.

Can Rufus (Matthew Settle) still win the heart of Lily (Kelly Rutherford)?

5. By the end of the next episode, will Lily be with Rufus or Bart?


Gossip Guy: Please, please, please get Lily and Rufus together. If Derena is falling apart, there's no reason to keep Lily and Rufus apart!! They are by far my favorite couple!!!

DANdy: She'll be doing the Bart, man.

Mister Meester: Neither. My prediction is that she calls off the wedding at the last second, but we don't know where she and Rufus stand. Gotta love season finale cliffhangers! On a side note, does anyone know where I can get Lincoln Hawk's Greatest Hits Vol. I?

What is your take on these hot Gossip Girl topics? Leave a comment with your answer(s). We want to know what you think?


Steve Marsi is the Managing Editor of TV Fanatic. Follow him on Google+ or email him here.

Tags: Gossip Girl, Round Tables