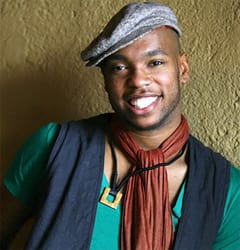 James Alsop was eliminated this week on
Step It Up and Dance
. Our pals at BuddyTV asked the dancer about his experience on Bravo's latest reality competition:
What were your first impressions of the other dancers when you first met them?
When I first met the other dancers, I kind of was sizing them up.  I was like, "Oh, the way so-and-so was dressed, this is probably what kind of dance they do."  But I wasn't really seeing it as a competition.  I was just trying to find the weakest link, I guess. to see who can be preyed on first.

What advice would you give to other aspiring dancers?
Do not let this industry beat you down.  I've been here for a year and a half, almost two years, and I still haven't had grand success, but that's because I'm still putting in my time.  You have to put in your time.  Like, the dancers who really book live in Los Angeles for like four to five years and that's when they start to get recognized.
So just be patient and make sure you're ready for all aspects of it, the horrible aspects, the great aspects, the in-between aspects.  You have to be focused and not let it get you down.  It's such a mental game.  But just be ready.
Read the full interview now.
Matt Richenthal is the Editor in Chief of TV Fanatic. Follow him on Twitter and on Google+.