Aimee Wright's inexperience on the runway finally caught up with her, as the young, 18-year-old hostess from Spanaway, Wash., became the fifth contestant eliminated from America's Next Top Model during this week's broadcast.
"I thought I was going to go pretty far," said Aimee, in between sobs, after her exit. "I made it farther than a lot of other girls in this competition, but I thought I was going to go farther... I wish the judges knew that I was more mature than they think I am. They seem to see me as just a very naive, young girl. I think they really got that image of me and didn't think that I was maybe ready for this competition."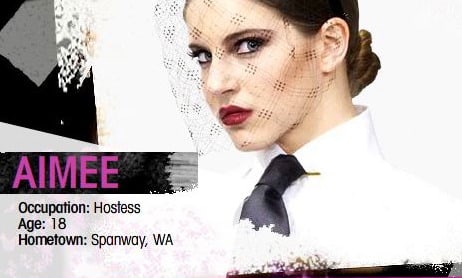 America's Next Top Model's fifth 10th-season episode began following the previous panel that saw the elimination of Marvita Washington and the team of judges praising Aimee Wright for her "luminescent" skin." That didn't last.
"Coming into this I had never done any modeling or anything like that before, so this whole competition has been such a learning and growing experience," Aimee said.
It wasn't enough, though, as Tyra Banks and the rest of the panel ultimately concluded that Wright had gone as far as she could go.
Continue reading this article here ...
Matt Richenthal is the Editor in Chief of TV Fanatic. Follow him on Twitter and on Google+.