And now, a few words from the KKK.
No, we aren't referred to the violent, repressive haters of Jews and African-Americans. We're talking about a group slightly less obnoxious than the Ku Klux Klan: Kim, Khloe and Kourtney Kardashian.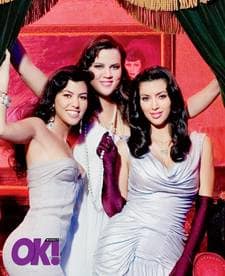 The three sisters recently
spoke with
OK!
Magazine about the second season of their reality TV show,
Keeping Up with the Kardashians
. Here are excerpts from the interview:
Kim Kardashian:
Q: How are you dealing with the constant presence of cameras for your reality show?
It's kind of crazy, but it's fun and you totally forget that they're there. We kind of know what we're getting ourselves into. But at first we used to be kind of careful about what we said and we would try to keep everything [censored]. My sisters kind of get crazy, and we tried so hard not to be ourselves for the first few weeks. Then all of a sudden we just [got relaxed].
Q: What has changed for you since the show's debut?
It's changed a lot. It's so cool to see different people respond to different episodes and different episodes. I think that me and my sisters never would have gotten really great opportunities that come up because we have a show on the air. And I think that we're all just embracing all of it. We're all having a great time.
Khloe Kardashian:
Q: What are you hoping your reality show success will lead to?
I want to design. My sisters and I are starting designing clothes and stuff. But other than that, I really want to host. Everything to do with fashion, but still be in front of camera and hosting red carpets, and just doing stuff like that.
Kourtney Kardashian:
Q: You're launching your own fashion line, aren't you?
Yes. We're actually taking our first meeting about it today. And I think that when I woke up this morning and thought about our meeting, I just thought it was great. We buy everything for our store. We're the buyers. But we go and we see all the lines out there and I just can't wait to do something exciting.
Matt Richenthal is the Editor in Chief of TV Fanatic. Follow him on Twitter and on Google+.