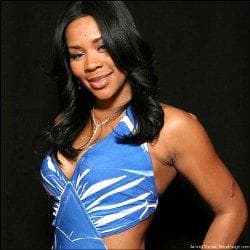 As Flavor of Love 3 heats up, here's news on one of the most famous contestants from a past season of this reality show.
Remember London Charle? Or, as she's far better known as, Deelishis? She actually won Flavor Flav's heart last season, but - shockingly - the relationship didn't work out in the end.
Last February, Deelishis was linked to Busta Rhymes, with whom she worked on her first album. The rumors have continued to plague her ever since. Finally, llast week, she decided to clear the air via her MySpace blog.
"I have received an influx of questions concerning my relationship with Busta Rhymes. Questions like, "Are we friends?" 'Are we more than friends?' 'Is he my baby's daddy?' 'Am I caught up in a love triangle with him and his fiancée?'" Deelishis wrote. "To answer your questions... Yes, he and I are friends, JUST FRIENDS, great friends to be exact.
We have been for a little while now, and respectfully we will continue to be. I have never been a woman with a desire to covet what was not rightfully mine. I'd never be caught up in a love triangle, and I'd never disrespect anyone else's relationship."
Deelishis even added that she's "happily involved" with another man.
"I am happily involved in a meaningful relationship," she said. "Like my boy Katt Williams said, 'We gone keep it pushing round here.'"
Matt Richenthal is the Editor in Chief of TV Fanatic. Follow him on Twitter and on Google+.