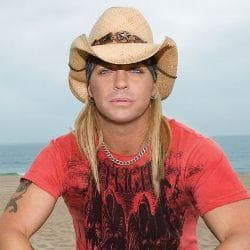 Bret Michaels says he struggled with his decision during the first season of
Rock of Love
, never being completely sure who to send home.
Eventually, the washed up rock star opted for Jes Ricklef instead of Heather Chadwell. But Jes rejected him during the reunion show. Oh, the shame!
"There's nothing more embarrassing to be in your own reality show and being blown off in your own reality show, which is [an] amazing feeling," Michaels said.
Although being dumped isn't really a huge let down for Michaels - seeing that he is given another chance to look for his ideal match on Rock of Love 2 - he admits that he made a mistake during the first season and takes full responsibility for it.
"As crazy as it is, you get emotionally attached… And last year in the end, I thought I made the right decision.  I thought Jes was beautiful…intelligent, sexy, smart, funny, but in the end, I'd probably should have picked Heather because we are still great friends," Michaels admitted.  "I made the wrong decision.  I take full responsibility as much as that is hard for me to say."
We guess that's a sign of maturity.
Matt Richenthal is the Editor in Chief of TV Fanatic. Follow him on Twitter and on Google+.