Seems like Mexico is the place to be for celebrities these days.
It's also where you can find Heidi Montag and Spencer Pratt!
This picture is about a week old by now, but it's still worth noting for several reasons. First, Spencer can't even put sunblock on Heidi without looking like he's trying to pretend to. Second, is that even Heidi Montag below?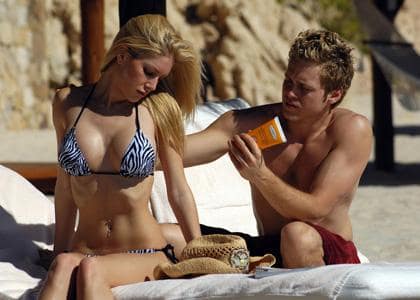 Spencer Pratt pretends to lather up Heidi Montag's fake body.
Seriously, remember Heidi Montag from the first season of The Hills? The cute, bubbly blonde? That's not this girl. Posing in men's magazines and for any celebrity news photographer she can find, she looks like a stereotypical trashy, bleach-blonde model, or at least someone trying to masquerade as one.
Heidi Klum, she's not.
Still, you can't beat Heidi and Spencer for entertainment value. You can check out Heidi in the new issue of Maxim... posing in the style of dogs.
Matt Richenthal is the Editor in Chief of TV Fanatic. Follow him on Twitter and on Google+.