Leighton Meester is not a bitch.
Some people are actually surprised to learn this upon meeting her - a source of great amusement for the gorgeous young actress.
After more than 10 years working as an actor, the 21-year-old has found fame playing Blair Waldorf, an insecure "society" teen on Gossip Girl.
The show, created by the team behind The OC, Josh Schwartz and Stephanie Savage, is based on the popular book series of the same name.
As with the movie Cruel Intentions, Gossip Girl lifts the lid on the secret world of New York's privileged teenagers.
Veronica Mars star Kristen Bell, who does not appear, narrates the series as the voice of Gossip Girl, an anonymous character who keeps a running commentary on all the juicy details about the lives of her peers.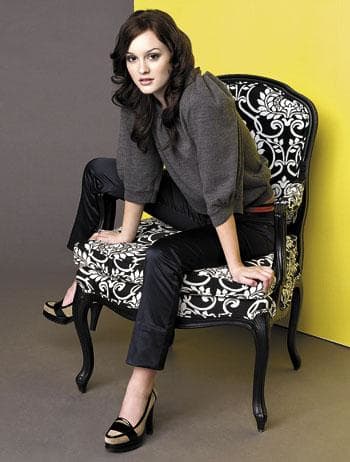 Leighton Meester, as Blair Waldorf, is the queen bee of the group. She is a fashionable and snide teenager, but one with a sensitive side, as well.
"She's not the girl next door and she's not the run-of-the-mill bitch," Meester says. "She's a good girl really. It's really fun to play because she says and does things that most people don't have the courage to do in real life... It's funny how many people say they're surprised I'm not a total bitch."
Meester says some of the show's biggest fans are the very teenagers they are representing on the show. Students from New York's Upper East Side often come to watch the show being filmed on location.
Leighton says she wanted to be part of Gossip Girl because it meant working with Josh Schwartz and Stephanie Savage.
"I didn't really watch The OC, but I knew what a great job they did with it," she says. "I really connected with them as people."
Leighton Meester decided to be an actor when she was 10.
She is not from a family of actors, but Leighton's parents supported her career and she soon found work in Law & Order, House and CSI: Miami.
"It's funny ... actors seem to always know what they want to be," she says. "You ask people when they've just finished college what they want to do and they have no idea, and sometimes they never know. But actors seem to know at an early age. I was lucky that I had such supportive parents."
Leighton Meester is also a singer and hopes to release an album.
Steve Marsi is the Managing Editor of TV Fanatic. Follow him on Google+ or email him here.