What can you expect from reality TV in 2008? Considering the writers' strike, a whole lot!
Here's a preview: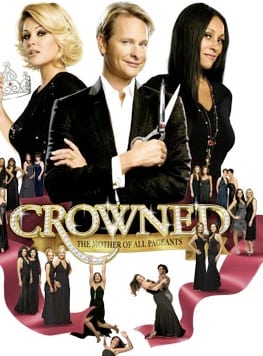 Crowned: The Mother of All Pageants
(premieres Wednesday, December 12 at 9PM ET/PT on The CW)
The bond between a mother and her daughter is often special, and this new reality series will definitely put it to the test as mother/daughter teams work together to win a beauty pageant that will award one team $100,000 cash award and a pair of tiaras. With cattiness always just around the corner, viewers may be left to wonder if human mothers eat their young.
Duel (premieres Monday, December 17 at 8PM ET/PT on ABC)
This new game show will air over the course of six consecutive nights, combining Who Wants to be a Millionaire's inane trivia with the World Series of Poker's addictive gambling elements. ABC also gave each of the show's 24 contestants professions' cool character nicknames from "The Alligator Wrestler" to "The Umpire," and much lamer nicknames like "The Software Engineer" to "The Telemarketer."
Clash of the Choirs (premieres on Monday, December 17 at 9PM ET/PT on NBC)
This new reality competition series will air live over the course of four consecutive nights, with five celebrity mentors such as Michael Bolton and Nick Lachey assembling an amateur choir from each of their hometowns and then having them face-off for home viewer votes. While it's billed as a "clash," it will probably be more of a heart-warming holiday sing-off.
The Biggest Loser 5 (premieres Tuesday, January 1 at 8PM ET/PT on NBC)
So much for building anticipation, as NBC will debut the fifth season of this weight-loss reality series exactly two weeks following its fourth-season finale. Contestants trying to shed the pounds will be competing while paired in teams with somebody they have a pre-existing relationship with -- and they'll have to do so without former Red Team trainer Kim Lyons -- who replaced Jillian Michaels prior to the third season only to be replaced by Michaels prior to the fifth season.
Make Me a Supermodel (premieres Wednesday, January 2 at 11PM ET/PT on Bravo)
This America's Next Top Model knock-off includes a few key differences, including a co-ed group of 14 aspiring runway walkers and home viewer votes determining each week's eliminated contestant. It will also answer that age-old question if male models are just as catty as their female counterparts
The Celebrity Apprentice (premieres Thursday, January 3 at 9PM ET/PT on NBC)
If you believe Donald Trump, billions of A-list celebrities were interested in participating in the seventh edition of this reality series, however he somehow ended up with a bunch of C- and D-listers. Regardless, The Donald still took them under his wing to teach them the ins and outs of the business world as they compete for their favorite charitable causes, which should make even Trump rivals Martha Stewart and Rosie O'Donnell smile.
Miss America: Reality Check (premieres Friday, January 4 at 10PM ET/PT on TLC)
Miss America's annual winner apparently isn't automatically born a beauty queen, and this four-part series will aim to prove that point, following the 52 participants competing in the 2008 pageant as they live together under one roof and prepare for their moment in the spotlight.
American Gladiators (premieres Sunday, January 6 at 9PM ET/PT)
This campy competition series, which first aired on syndication in the U.S. from 1989 to 1996, has been reinvented by NBC, with Hogan Knows Best patriarch Hulk Hogan and former Dancing with the Stars participant Laila Ali replacing original hosts Larry Csonka and Michael Adamle. However NBC kept some of the great original challenges -- like The Wall and The Eliminator -- and hopefully those hideous spandex jumpsuits.
Dance War: Bruno vs. Carrie Ann
(premieres Monday, January 7 at 8PM ET/PT on ABC)
ABC has decided to bridge the gap between
Dancing with the Stars
Fall 2007 fifth edition and Spring 2008 sixth installment with this new reality competition series, which will follow Dancing with the Stars judges Bruno Tonioli and Carrie Ann Inaba as they form singing and dancing groups before pitting them against one another in battle. Think of it as a cross between Fox's American Idol and Fox's So You Think You Can Dance, only on ABC.
American Idol (premieres on Tuesday, January 15 and Wednesday, January 16, with both two-hour broadcasts beginning at 8PM ET/PT on Fox)
Simon Cowell, Paula Abdul and Randy Jackson have gushed that the seventh-season of this Fox mega-hit will include some of the best talent ever to grace the Idol stage -- and no, that doesn't mean Fox has decided to replace Ryan Seacrest -- although if the strike doesn't end by the time the show's semifinals begin, viewers will presumably get to see how charming and funny he really is without the aid of writers.
The Millionaire Matchmaker (premieres Tuesday, January 22 at 11PM ET/PT on Bravo)
Obscenely rich men apparently need help finding love too, and this new reality series will follow Millionaire's Club founder and CEO Patti Stanger and her staff as they set-up wealthy men on dates with less-wealthy -- but presumably more attractive -- golddiggers single women.
Paradise Hotel 2 (premieres Monday, February 4 at 9PM ET/PT on MyNetworkTV, and with a TV-MA version at 1AM ET on Fox Reality Channel)
This sleazy Big Brother-like reality series is back after more than four years off the air, featuring a mix of 11 male and female singles living, playing and hooking-up with one another in a secluded resort for the chance to win a cash prize. Whether or not the participants' experiences can be considered "paradise" remains to be seen, however home viewers following their exploits should find it entertaining.
Survivor 16 (premieres Thursday, February 7 at 8PM ET/PT on CBS)
Although CBS still isn't confirming that Survivor's next edition will feature another group of returning "all-stars" castaways, it sure does seem to be shaping up that way -- especially when you consider the lame Survivor 16 title CBS has initially given the show.
Big Brother 9 (premieres Tuesday, February 12 at 9PM ET/PT on CBS)
Thanks to the writers strike, this long-running CBS reality series will -- for the first time ever -- air a non-summer edition. The show will once again air thrice weekly, and since it's making Big Brother history by being broadcast in the spring, the show's producers are promising it will be different and stand-out from any previous installment. Also expect a heated swimming pool and any contrived scenario that might maximize bikini use during the "chilly" Los Angeles winter.
The Baby Borrowers (premieres Monday, February 18 at 8PM ET/PT on NBC)
Playing house has never been so real for the five young couples participating in the American adaptation of this British import, which will follow the young lovebirds as they are put on the fast-track to adulthood. With their baby growing from an infant to elder over the course of three weeks, the couples will either learn that they're ready for parenthood or in need of more birth control.
When Women Rule the World (premieres Monday, March 3 at 8PM ET/PT on Fox)
A group of 12 macho, macho men find themselves in a primitive Survivor-like society ruled by -- GASP! -- women. If that's not bad enough, the chauvinistic dudes will have to answer to every beck and call of their female masters, who treat them like slaves. One man will be "traded for supplies" -- aka eliminated -- during each episode of the series, with the last man standing receiving $250,000 while presumably losing his self-respect.
Matt Richenthal is the Editor in Chief of TV Fanatic. Follow him on Twitter and on Google+.