With no end in sight to the writers' strike, prepare for more reality TV than you ever thought was possible.
For example, Crowned: The Mother of All Pageants premieres tonight. According to The CW, the series "explores one of life's most emotional and volatile relationships as mothers and daughters from all walks of life compete together in order to win a no-holds-barred beauty pageant."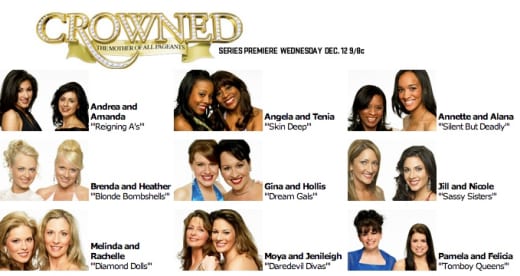 You're familiar with two of the judges on the show, we're guessing. They're a pair of reality TV mainstays. Carson Kressley (Queer Eye for the Straight Guy) and former Miss USA Shanna Moakler (Dancing with the Stars, Meet the Barkers) join television personality Cynthia Garrett to referee the eight-episode competition.
In the end, one mother/daughter team will be "crowned" the winner and will receive a valuable prize package, including a $100,000 cash award, and, of course, a fabulous pair of tiaras.
Matt Richenthal is the Editor in Chief of TV Fanatic. Follow him on Twitter and on Google+.