Despite the embarrassing defeat of his alma mater, USC, to Pac-10 rival Stanford in football, TV Guide's Michael Ausiello was able to crawl out from under the covers to deliver some Grey's Anatomy spoilers in his weekly column.
Here's what he's got to say about our favorite show and what lies ahead in the coming weeks for the residents of Seattle Grace Hospital ...
Question: Stanford?! Seriously?! Wow. To help you feel better, I thought I'd give you the chance to turn things around and share some Grey's Anatomy scoop with us. You'll feel better, honest!
TV Guide: I don't usually put a lot of stock in alternative remedies, but I suppose it's worth a try. Dr. Erica Hahn (Brooke Smith) will be returning for a Halloween episode on October 25, and she'll make a controversial decision that causes a major rift between Cristina and Izzie. Also, the fallout from the George-Izzie relationship will throw Callie and Cristina together in an unexpected way, and someone is fired from their position.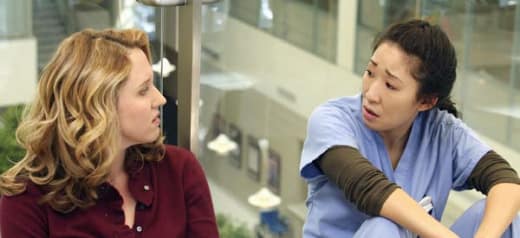 Question: What's the deal with the new actress (Lauren Stamile) cast on Grey's Anatomy? Is she Derek's sister or a potential new love interest?
TV Guide: Promise you won't shoot the messenger? I mean it. Promise. Okay, she's Derek's potential new love interest. Hey, you promised!
Question: More Grey's Anatomy news please!
TV Guide: Someone else from Meredith's past is returning next month. Stay tuned!
Steve Marsi is the Managing Editor of TV Fanatic. Follow him on Google+ or email him here.