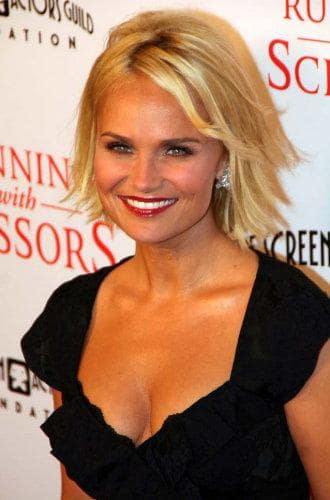 The good folks at BuddyTV recently sat down with Pushing Daisies star
Kristin Chenoweth
. Here are highlights from the interview:
How were you first approached for the role of Olive Snook? What were your first reactions to the pilot script?
I was approached by Barry Sonnenfeld and Bryan Fuller about the show. The role of Olive spoke to me because she's a bit of the underdog. I rarely get to sink my teeth into those parts.
Obviously, the pilot script had to be incredible, but did you have any worries about how they would pull it off? Was it difficult to visualize the world of Pushing Daisies from what was on the page?
I knew Barry would be the star of the show. That combined with his specific style and uniqueness would make the show special. Its his vision and the writing that make the show.
It didn't take long for audiences to get to watch you sing (the second episode). Was this a pre-requisite for your character? Or, did it happen once you were cast they knew they had a Tony winner in the role?
The singing thing was a surprise to me. Bryan felt like putting it out there right away since many people were already writing in asking when I might sing. I get a kick out of singing on a show where it could actually make sense that someone sings. It was by no means a pre-requisite for me to take the part. I usually don't think singing on TV is a great idea but it certainly works in our world.
Read the full interview here.
Matt Richenthal is the Editor in Chief of TV Fanatic. Follow him on Twitter and on Google+.