Welcome to our third Heroes Round Table.
While fans of the show gather in the Pushing Daisies now, learning how to come back from the dead, and we all know why: the decreased waitress has a bone to pick with her former, cheating lover.
Milover: I haven't seen somebody mess with history like this since Marty McFly tried to use that 2015 sports almanac to bet on past games in Back to the Future: Part II. Although the adventures of Hiro are 20 times more fun to watch than that dreck. Way to ruin a great movie with a bad sequel.
Timex: I'm a firm believer that history is going according to plan. I believe Takezo became the Hero he was because of Hiro going back in time and making history what it is today. And if Back to the Future taught us anything, it's that we would know if Hiro messed with the space time continuum already.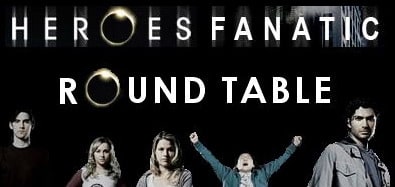 More of a future: Claire and West? Or Peter and Caitlin?
Milover: Claire and West. Did you see that smile on her face when she was whisked away? I must admit, that was a cool scene... and that I was jealous. How cool would it be to cradle Hayden Panettiere in your arms? I mean fly?
Timex: Gross and gross. I'm sorry, Claire is much too good looking for West. She needs a man like me. And as far as Peter and Caitlin? I'm pretty sure Peter can do much better. But if I had to choose one to have more of a future, let's go with Claire/West. Peter will return to New York and, let's face it, long distance never works. Even if you can bend the space/time continuum.
A. Hiro: Claire and West. From what we know of Peter's taste in women (and by that, I mean Milo Ventimiglia's taste in women), Caitlin is way too old for him.
Who should move in with Mohinder and Parkman: Steve Guttenberg, Ted Danson or Tom Selleck?
Timex
: Wow, that is rough. We clearly need our third man, so I'm going to have to go with Steve Guttenberg. Clearly, we need some comic relief on
Heroes
.
A. Hiro: Ted Danson. Kensei and Nathan need a friendly bartender to listen to their horror stories as they get liquored up.
Milover: Tom Selleck. He's already under contract at NBC, having taken over for James Caan on the perennially mediocre Las Vegas. Let's hear it for cross-marketing!
Will Sylar ever regain his powers?
A. Hiro: Yes. And he'll use them to defeat The Others, sleep with Kate and argue with John Locke over faith versus science.
Milover: He's got to. Last season, Sylar became one of the great TV and science-fiction villains in recent memory, and the show has clearly missed that element in the beginning of Season 2. There's so much going on, and far too little of Sylar involved in it.
Timex: I sure hope so. We need ourselves a bad guy besides this so called "company."
Matt Richenthal is the Editor in Chief of TV Fanatic. Follow him on Twitter and on Google+.