Season Four of of Grey's Anatomy is underway, so let's take a look at who won the Insider's first Caption Contest of this young season.
This funny photo from "A Change is Gonna Come" yielded a lot of good entries. Honorable mentions go to L.C., LanieCroft and FunWithPuns (although that was a little too easy), among many others. It was a great week for captions. This week's winner, however, is kdborg. Terrific Sound of Music takeoff!
Congratulations to all who participated, you make this a very fun feature week in and week out. The winning reply appears beneath the photo, and you may scroll down to read the complete list of submissions.
Thanks to all, as always, for playing and for making Grey's Anatomy Insider the #1 Grey's Anatomy site online. We appreciate your support and hope you enjoy!
Here is this week's Caption Contest image: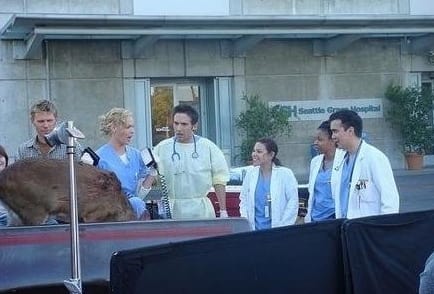 Izzie singing:
Doe, a deer, a female deer.
*zap* The deer has come alive.
Me, I really am that good.
Fa, you look so damned surprised.
So, you think I'm such a dud.
La, your egos are in mud.
Te, I'm laughing all inside.
That will bring us back to Doe...
Steve Marsi is the Managing Editor of TV Fanatic. Follow him on Google+ or email him here.