Commentary: Some Private Practice For Addison
Steve Marsi at .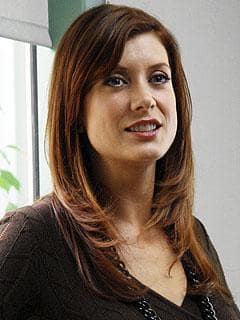 Last Wednesday on Private Practice, we went down to Ladytown, a place Addison had apparently never been before. She'd never gone to town solo style, if you know what we mean.
We mean Addison (Kate Walsh) had never paid herself lip service. She hadn't dialed the rotary phone. She didn't know how to do the two-finger taco tango!
High five! Okay, you get the point.
Addison claimed that this is because she's from Connecticut.
If that's true, that cross-legged state ought to declare Masturbation Mondays, or Jill-off July. They need to get somethin' going on there.
But by the end of "In Which Addison Finds a Showerhead," Addison and shower apparatus were about to get to know each other. Score one for SoCal!
Maybe this has been the problem for Dr. Addison Montgomery all along. She spent so much of her life getting degrees and world-class certifications that she has, well, neglected to go there. It's really quite something.
But let's go back to the beginning. The episode opened in an elevator in which Pete admits to Addison that he couldn't continue working with her — that her red hair, her face, her brain... were too hot for him to handle. Ding! It's a dream!
Continue reading this piece by Entertainment Weekly ...
Steve Marsi is the Managing Editor of TV Fanatic. Follow him on Google+ or email him here.