The Changing Face of the Female Heroine
by Steve Marsi at .
Better, stronger, faster. There's a new breed of heroines on TV, and while there has always been something about a hot chick in a latex jumpsuit, the female heroine has been undergoing a spectacular renaissance.
From suburban protagonists such as the ladies of Wisteria Lane or the wicked Nancy Botwin (Mary-Louise Parker) of Weeds, to serious super-chicks such as Alias' Sydney Bristow or the cheerleader from Heroes (Hayden Panettiere), and a dearth of doctors (Ellen Pompeo, Sandra Oh and Kate Walsh of Grey's Anatomy and Private Practice), the sisterhood has never been so strong.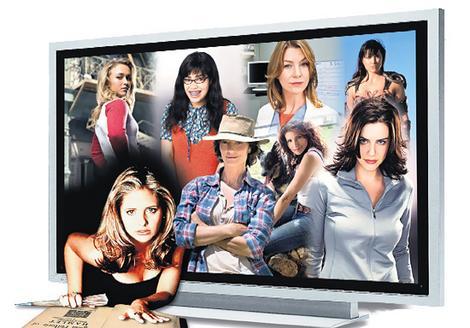 And now an old favorite joins the ranks as Jaime Sommers â€" a.k.a. the Bionic Woman â€" makes a triumphant return on October 4.

Indeed, while all the networks are generously endowed with wonderful female leads at the moment, ABC's is particularly rich. With Desperate Housewives, Grey's Anatomy, Brothers and Sisters and Ugly Betty, what's not to like?

"These leading ladies are very strong characters, they're jumping through burning buildings, saving the universe, saving lives, burning down the neighbors' house, living double lives, and looking immaculate â€" all in a day's work" said one exec.

"It's pure action, adventure, escapism."

And it's something audiences, male and female, have always responded to.

As some shows, such as Desperate Housewives, do tend to attract bigger numbers of female viewers, others, such as Heroes or even Grey's Anatomy after its first of three seasons, actually attract a pretty even gender mix.

Continue reading this article here ...

Steve Marsi is the Managing Editor of TV Fanatic. Follow him on Google+ or email him here.

Tags: Grey's Anatomy
From Around the Web