Round Table: "In Which We Meet Addison ..."
Steve Marsi at .
Welcome to the Private Practice Insider Round Table!
While fans of the show gather in the forum to discuss every character and story line, three of our staff members will come together to analyze the latest developments and key moments from each Private Practice episode.
Topics in this edition include possible chemistry between Cooper and Violet, the future prospects for the Bennetts, and who we'd like to see dance naked ...
1. How long until Naomi and Sam reconcile?
2aTAYE: Two months. Sam's previous relationships (read: shows) scarcely lasted two weeks. I think he's just being cautious here. Once the ratings stay strong, this doctor's heart will become weak for Naomi again.
Oceanside Guy: Are these two really divorced? Sam wasn't happy? She didn't fight? There's gotta be more of a back story than we know.
McWings: I don't know... maybe by the end of the year? If it were Merrin Dungey playing the role opposite Sam, I could see it sooner. But that's just me.
2. Do you sense chemistry between Cooper and Violet?

McWings: Yes. I think they should date and see what happens.
2aTAYE: Only if she likes rope, a cheese grater and grape juice to be involved in her lovemaking.
Oceanside Guy: Undeniably. Cooper obviously has sexual issues but he also has a thing for Violet. Maybe a "real" relationship with someone his age who he already loves and respects will cure him!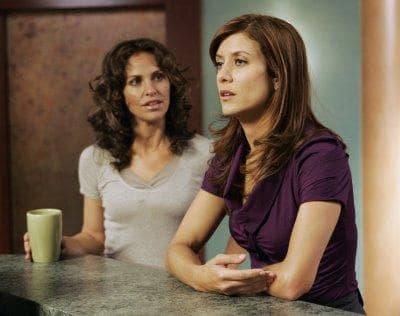 3. Okay, so Addison likes to dance naked. Which other character would you like to see appear in the nude?
Oceanside Guy: Uhh, can't Addison just begin and end each episode this way? Not only is she gorgeous, but the comedic potential with Sam as her next door neighbor is limitless. On a side note, I gotta use his Realtor.
2aTAYE: Charlotte King. Let's see if she's the boss in the bedroom, as well.
McWings: Pete. Although he doesn't strike me as the dancing type. Whatever the circumstances, I'll take it though! He's McHot!
4. What was your least favorite part of last night?
McWings: Too little of Dr. Richard Webber. The Chief needs regular cameos! Carry on in L.A., Addison. Carry on.
Oceanside Guy: The incongruence of Addison's medical background. Is she a neonatal expert? An OB-GYN? All of the above? I know it's secondary to the entertainment value of the show, but this should be better explained.
2aTAYE: The first words out of Violet's mouth after she and Cooper helped the tile lady: "I'm not a stalker." Transparent attempt by Shonda to sound cutesy.
Steve Marsi is the Managing Editor of TV Fanatic. Follow him on Google+ or email him here.