If you'd prefer not to read any Pushing Daisies spoilers, we suggest you skip this post. Below is a brief summary - and even a pair of images - from the show's series premiere on October 3.
Summary: Ned, a mild-mannered baker of fabulous pies, discovered as a child that he had a unique gift. Ned had the ability to return someone dead briefly back to life with just a simple touch. Through the years, Ned has learned to live with his unique ability, and puts his gift to good use, working with his only friend, a private investigator, to crack murder cases by asking victims to name their killers.
But the tale gets complicated, as all tales do, when he saves his childhood sweetheart and she miraculously stays alive. Life would be perfect, except for one cruel twist: if Ned ever touches her again, she'll lose the life he gave her, for good this time. There's always a catch…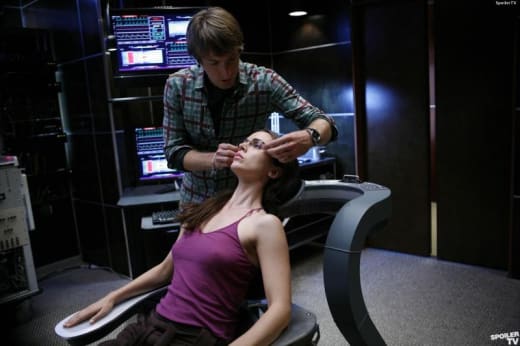 Meet Ned (Lee Pace) and his shady busines partner, Emerson Cod (Chi McBride).
Olive Snook (Kristin Chenoweth) loves Ned. Ned loves a dead woman he can't touch. So it's easy to see why even the adorable presence of Digby can't raise Olive's spirits here.
Matt Richenthal is the Editor in Chief of TV Fanatic. Follow him on Twitter and on Google+.