As the World Turns' Maddie has been taking a little heat from Luke and Noah fans across the Internet for being the spoiler in a very unusual love triangle.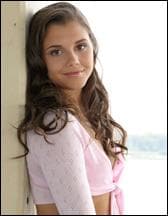 However, her portrayer, Alexandra Chando, is quick to point to
Soap Opera Digest
out that Noah's clueless beard hasn't exactly had an easy time of it.
"She was still trying to get over Casey and just started this new relationship," says Chando. "So it's been really hard for her."
Unfortunately, waving Casey off to the state pen was the least of what Maddie's been through in the last 12 months. Take a look at some of this Oakdale teen's tough times.
1. Maddie sent first love Casey off to prison after he revealed he had a secret gambling problem and broke into Crash just to cover his debts.
2. Although Casey wanted her to have a normal life and go to college, when new guy Noah begged her to stay in town, she gave up a scholarship to her dream school, Wesleyan. Since her brother Henry and his girlfriend Vienna just lost all their money, she's going to have to work just to attend "prestigious" Oakdale U.
3. She clubbed Casey's psycho brother Adam over the head, helped Gwen bury the body, was haunted by the secret, and then was summarily stalked and attacked by Adam when he turned up not-so-dead and wanting revenge.
Matt Richenthal is the Editor in Chief of TV Fanatic. Follow him on Twitter and on Google+.