Heroes cheerleader Hayden Panettiere will make a guest appearance with fellow cast member Greg Grunberg's all-star Band From TV this weekend.
"I sang with them at the wrap party for our show," Panettiere told People magazine Tuesday at a party in L.A. celebrating NBC's fall season. "I saw them and said, 'Anytime you guys want me to perform with you I'm totally up for it.' "
Panettiere, who has an album on the way and recently made headlines with her rendition of the National Anthem at the July 4 fireworks ceremony in Washington, D.C., will take the stage with Grunberg and his fellow actor/musicians on Saturday in Orange County, Calif. at Cal State Fullerton, after the Orange County Flyers baseball game.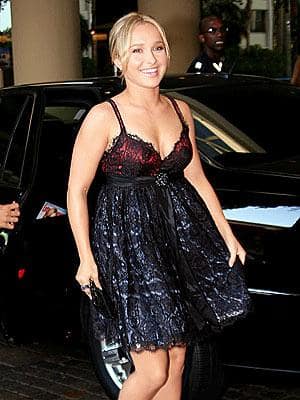 The celeb-heavy Band From TV is a rock 'n' roll cover band featuring Grunberg on drums, Desperate Housewives' James Denton on guitar, House's Hugh Laurie on piano and both Bachelor star Bob Guiney and Kitchen Confidential actress Bonnie Somerville on vocals.
Panettiere says she'll jump at any chance to practice singing onstage. "I have terrible stage fright and [with an album coming out] I'll need to go on tour at some point – so I need to practice."
But Grunberg later laughed off Panettiere's claims. "Give me a break," he said. "She just played in front of like 500,000 people!"
This weekend's audience is expected to be closer to 5,000, according to the Heroes actor.
"That's like the biggest audience we've played. It's really exciting," he says. "We're going to do a whole set, and then [Hayden] is going to do two amazing songs."
So what exactly will Panettiere sing? "I'm singing Meredith Brooks's 'Bitch,' and then I'm singing Alanis Morissette's 'Ironic,'? she says. "It'll be fun!"
Matt Richenthal is the Editor in Chief of TV Fanatic. Follow him on Twitter and on Google+.