Another edition of our Caption Contest (the 65th) proved to be a good one. With over 100 responses to choose from, we had out hands full.
There were many worthy contenders. Kim (like the Harry Potter reference) Grey's Addict, kdborg and Dinofigg all made us laugh. In the end, though, we went with Caity. Congratulations! We love the imagery of Mark Sloan, official hospital gossip. The winning reply appears beneath the picture. Scroll down to read all the ones sent in!
Thank you to all for participating and for making the Insider the #1 Grey's Anatomy site on the web. Good luck this week! Visit us for news, videos, pics, quotes, This week's Caption Contest image: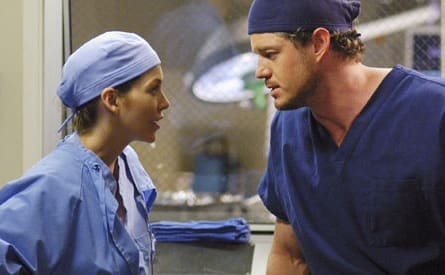 Mark: "I hear we have another intern to induct into the dirty ex-mistresses club."
Meredith: "What? Who?"
Mark: "Izzie Stevens. She slept with George and then told him she loved him the day of the wedding. But George doesn't know what to do because Callie wants kids and told him that same day. And to top it all off, he failed his boards."
Meredith: "Hmm... she does need to join the club. How do you always know all the good gossip by the way?"
Mark: "It pays to have all of the nurses think you're gorgeous."
Steve Marsi is the Managing Editor of TV Fanatic. Follow him on Google+ or email him here.