Elliott Yamin had no formal training in singing prior to his participation in the fifth season of American Idol.
Nevertheless, he managed to make it all the way to the final three with Taylor Hicks and Katharine McPhee. The show then offered Yamin a recording contract - but he decided to sign a music publishing deal with Sony/ATV instead in December 2006.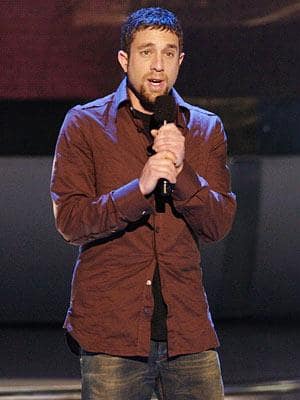 When asked by the
Arizona Daily Star
if working independently of
American Idol
has been advantageous, Yamin didn't hesitate in his reply:
"Absolutely. I've been involved every step of the way with every facet of this project from co-writing songs to picking out the sequencing on the record to trying to help pick where I wanted to go on tour. Everything from top to bottom. I am a partner in my own deal. I have more vested in this. I don't have to go out and sell 2-3 million records to be successful."
Despite stepping outside the mainstream, Yamin remains close with a few past contestants.
"I keep in touch with quite a few people," Yamin said. "Bucky Covington and Taylor Hicks were my best friends on the show. I talked to Taylor…when we were in St. Louis and Bucky a couple of weeks ago. I talk to Ace Young all the time. Ace has probably become one of my better friends post-show. He lives in L.A., pretty close to where I live. We talk about more personal stuff than the business stuff. Everyone has been so busy, they just want some normalcy."
Elliott has also been a Type I diabetic since he was 16 years old and spends time working as a celebrity advocate for the Juvenile Diabetes Research Foundation.
"I think it is very important," Yamin said of his work with the organization. "A lot of people align my struggle with calling me a role model. I don't know if I necessarily want to be one, but I definitely want to be a voice."
Matt Richenthal is the Editor in Chief of TV Fanatic. Follow him on Twitter and on Google+.