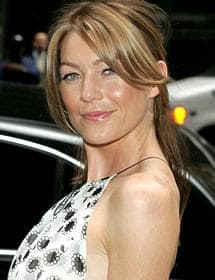 According to the
Minneapolis Star-Tribune
, Ellen Pompeo and a new friend clicked hit it off over champagne and blisters in Paris, as their guys looked on.
The Grey's Anatomy star was in Europe promoting the ABC show with her then-boyfriend, now-fiancé Chris Ivery; Kim McNair and Tim Lawless were there to celebrate a wedding anniversary and play backgammon.
The Minneapolis "Ims," as Kim and Tim are known by friends in Europe, were waiting for their Yachts de Paris dinner ride on the Seine to begin when she said to Tim:
"I love this city. Everywhere you go, they offer you champagne. Ellen Pompeo and Chris Ivery come on and I look at my husband and say, 'Is it?' and he goes 'Yeah, for sure.' She is sitting maybe 2 feet away from us."
"And she leans over with her champagne glass and clicks my glass and goes Don't you just love the city? They always offer you champagne."
It turns out that she and Pompeo clicked - so well, in fact, that their two tables for two were combined into one table for four.
"The ship was very formal and Ellen was in formal wear, but she had flats, flip-flops on," Kim said.
The TV doctor, whose co-stars include another Minnesotan, T.R. Knight, started complaining about blisters.
"My husband's eyes rolled because I always carry these blister bandages. If you don't know about them they are the Band-Aids [brand]; I should have stock in the company," Kim said. "I always carry them around, but I didn't have them that night because I was carrying my little formal bag."
During dinner, Kim and Tim learned that Pompeo and Ivery, a music producer, got engaged - before the rest of the world was told.
"They had just gotten back from Monte Carlo," Kim said.
"We were just heading to Monte Carlo for the International Backgammon Tournament, where [Tim's team], the only American team, won.
"They had their driver take us home [after the cruise]," Kim said.
"The next day I sent [blister bandages] to their concierge and she fell in love with them. You put them on, they stay on; you don't look like you have a Band-Aid on and you can wear your shoes. The next day they sent me a 4-foot bouquet, just beautiful, thanking me for the Band-Aids."
Two other planned meetings in other cities have been aborted.
Work on Grey's Anatomy always changing Pompeo's plans, while Kim, the former owner and now an employee of Lite Spa, is much busier than Tim, a retired electrical sales rep.
A couple of weeks ago, there was buzz about Ellen Pompeo and Chris Ivery coming here for Lawless' birthday party.
"They didn't make it," Kim said. "Her schedule."
But if you see Pompeo and Ivery around the Twin Cities, there is a good chance they are hanging with the "Ims."
Steve Marsi is the Managing Editor of TV Fanatic. Follow him on Google+ or email him here.