As a kid, Tyra Banks described herself as a "tall beanpole freak" who did not think she was beautiful. No wonder people don't take kids seriously.
The 5'10" knockout went on to become the first African-American to grace the covers of GQ and the iconic Sports Illustrated swimsuit issue.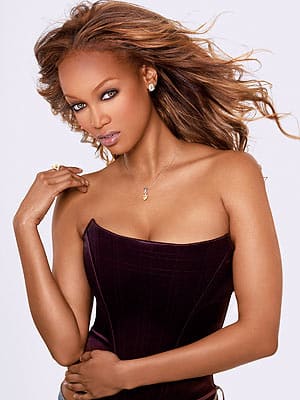 After becoming a mainstay for lingerie brand Victoria's Secret, Tyra Banks blazed a trail beyond the modeling industry by serving as creator, producer and judge on America's Next Top Model.
But, it was with her own talk show, The Tyra Banks Show, in 2005, that she really became "far, far more than just a body in a bathing suit" according to Time, who has twice listed Banks as one of their 100 Most Influential People in the World.
The supermodel mogul and Russell Simmons pal works with teenagers at her camp, Tzone, helping young women build self-esteem, and launched her "So What" campaign that promotes positive body images for women.
All that is fairly common knowledge. But here are five fun facts about Tyra Banks that you probably weren't aware of...
The runway veteran admitted to having cellulite and wearing control-top undies. "My silhouette looks fine, but... I have dimples in the backs of my thighs," Tyra Banks tells People.
Tyra appeared as one of the morphing faces at the end of the 1991 Michael Jackson video "Black or White."
"I've been afraid of [dolphins] ever since I was 8 or 9," Tyra Banks says. "I have dreams that I am in a pool and there are dolphins bumping me and I'm frightened."
Even though she used to model lingerie, Banks used a butt double to stand in for her nude scene in the low-budget movie Larceny.
After being the first African-American model featured solo on the cover of Sports Illustrated's swimsuit issue, Tyra Banks revealed some interesting modeling secrets. "The oil on our bodies reflects muscles that aren't even there... I don't really have muscle tone, but it looks like I do on the cover because of the oil."
Matt Richenthal is the Editor in Chief of TV Fanatic. Follow him on Twitter and on Google+.