This Thursday's episode is entitled "Testing 1-2-3." It's the penultimate episode before the Season 3 finale, which is ominously titled "Didn't We Almost Have It All" and is scheduled for May 17.
Among the potential (and fairly predictable) Grey's Anatomy spoilers floating around regarding the season finale are:
A new Chief of Surgery will be appointed at Seattle Grace.
Jane Doe learns her identity... and learns she's married.
George and Izzie are exposed (also rumored to be happening this week), and he and Callie will make a big decision about their relationship.
The episode will revolve around not only Cristina and Burke's wedding, but our favorite interns' first exam results as well.
One intern will not do nearly as well as they expected.
Let the speculation begin. Do you buy any of this? More importantly, do you think the season will end with a married Burktina?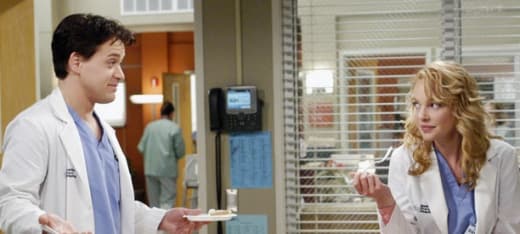 Steve Marsi is the Managing Editor of TV Fanatic. Follow him on Google+ or email him here.