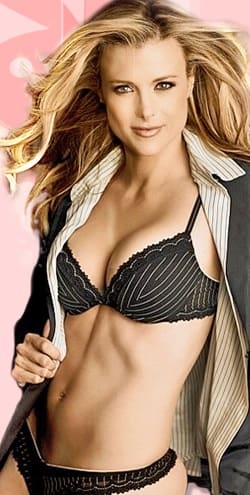 Kristine Lefebvre nude
photos are about to become a reality.
The former contestant on The Apprentice recently shot a pictorial for Playboy, as she tries to raise awareness for cervical cancer. It's an admirable cause for sure.
Now, a few days before her issue hits the stands, Kristine has updated her official site to talk about the experience of making like Holly Madison and baring it all for the public to ogle over ...
I have had a long standing professional relationship with the business people at Playboy. I have negotiated deal for a number of celebrities … After learning I was a contestant on The Apprentice Los Angeles, Marilyn Grabowski, the West Coast Editor, had suggested that Playboy do a pictorial on me.
It was a personal phone call from Hugh Hefner that made my decision easy … Mr. Hefner told me that he really hoped we were going to be able to work out an arrangement for me to appear in Playboy. That was all it took. I have so much respect for Mr. Hefner, he has truly created a piece of "Americana."
I loved my shoot. Steve Wayda is an amazing photographer and has a keen ability to capture the essence of a woman. Everyone at Playboy was wonderful and I hope you will enjoy the "great article" when the issue hits newsstands on Friday, May 4th.
Those at Reality TV Scoop look forward to it.
Matt Richenthal is the Editor in Chief of TV Fanatic. Follow him on Twitter and on Google+.