Just three weeks after getting a rumored boob job and nose job, a smoking hot Heidi Montag put those rumors to rest... and turned heads with her beau, Spencer Pratt, on a Malibu beach.
Personally, we don't know why a cute girl like Heidi had all this work done, as she looked great from the start. But according to Us Weekly, many a beach passerby was impressed by her.
"She looked awesome!" says an onlooker. "She seemed really happy."
We don't see how anyone could be, in the presence of Spencer Pratt. But Heidi Montag has defied conventional wisdom for two years now.
Sources tell Us Weekly that Beverly Hills-based doctor Frank Ryan performed both surgeries. Heidi, 20, always, like, wanted C-cups, and believes a woman should soooo do whatever she wants with her body.
Check out these before and after shots, which clearly show the results of the Heidi Montag boob job / nose job ...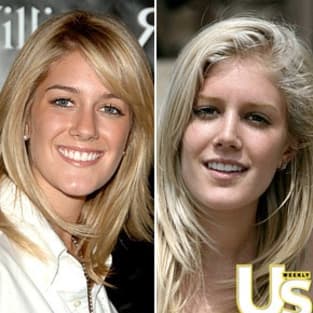 Oooga. Those are some serious breasts, Heidi. You sure Spencer isn't behind this? And what's with the nose? It's not like it was huge to begin with.
Strange stuff. Though she has not confirmed she had surgery, the star of The Hills admits she has plenty of reasons to be in good spirits.
"I'm in a great place in my life right now," she tells Us Weekly, no doubt confirming fears that Heidi and Spencer are still hot and heavy.
Spencer Pratt, for his part, denies he pushed Heidi to have the surgery, stating, "I would never tell her what to do with her body."
Lauren Conrad, her Hills co-star and former best bud, who has accused Montag and Pratt of fabricating sex tape rumors about her, has not yet commented on Montag's newly ample chest.
Matt Richenthal is the Editor in Chief of TV Fanatic. Follow him on Twitter and on Google+.