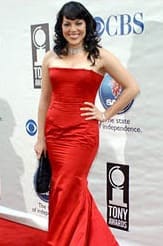 We've already seen her rock out in her underwear on
Grey's Anatomy
.
Now Tony-winning actress Sara Ramirez, who plays the feisty wife of George O'Malley (T.R. Knight), Callie, has signed a deal to record her own album.
"All I can say is that Eric Idle and John Du Prez, who were the writers of Spamalot, are writing the album," Ramirez told TV Guide at the Step Up Inspiration Awards, where she was honored for mentoring young girls.
Although her lips are sealed about the disc's sound, Sara Ramirez â€" who has already inked a contract with Universal Music Group â€" did reveal that she'd be spending her summer break from Grey's Anatomy in the studio recording the album.
But the Mexico native did let a few details slip about the love triangle brewing on Grey's Anatomy between George, Callie and Izzie.
"Callie is just showing up doing her job, oblivious to everything," says Ramirez.
So will she call it quits after discovering George slept with Izzie?
"I think she knows her relationship with George is in sort of a delicate place," she says. "But she's a strong lady. She knows what she wants so I'm sure she'll go to any lengths to get it!"
Hopefully, this means we'll see more of Calliope Iphigenia Torres-O'Malley in next year's Season 4 â€" but Ramirez isn't talking just yet.
"Am I back next season?" she asks with a laugh. "Maybe. This character's just been so much fun to play. Acting with this group of people has been a master class in episodic television. For now, I'm just enjoying the ride."
Steve Marsi is the Managing Editor of TV Fanatic. Follow him on Google+ or email him here.