Sandra Oh Opens Up About Acting, Challenges of Being Korean in Hollywood
by Steve Marsi at .
"Of course I maintain my identity as Korean acting in the U.S. Look at my face, that's what people see... It has been both a blessing and a challenge." - Award-winning Grey's Anatomy star Sandra Oh
In the ABC hit series Grey's Anatomy, Sandra Oh brilliantly portrays Dr. Cristina Yang, a doctor who does her best to save lives while getting over a miscarriage and struggling to balance her tremendous love for Dr. Preston Burke and her lofty career aspirations.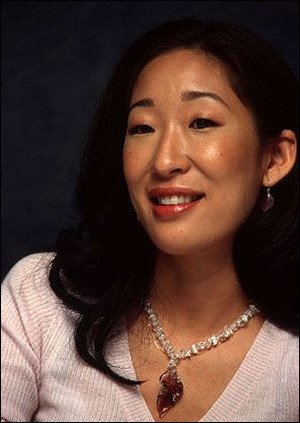 Sandra Oh

won the Golden Globe for best supporting actress in a series in 2006 and the Screen Actors Guild Award for outstanding performance by a female actor in a drama series in 2007.

It seems as if she is just hitting her stride after also making a strong impression in Sideways, a film directed by her now ex-husband, Alexander Payne.

Sandra Oh may be the first case of a Korean succeeding in Hollywood, where Asians are rarely part of the mainstream. In an exclusive e-mail interview with the Chosun Ilbo, she opens up about her life and work...

Q: You are one of a few Asian actresses who have been recognized for talent and risen to stardom in Hollywood. What do you think of your position or status?

Sandra Oh: I recognize that there are not many of us, so I take my position very seriously. It is a circumstance that I continually find challenging, both personally and professionally, but overall, I am extremely grateful and honored.

Q: Grey's Anatomy is a great show that brought you the 2006 Golden Globe and Screen Actors Guild Award. Why do you think your role attracted such considerable attention? Can you explain your feelings when you won the awards?

Sandra Oh: I would hope that my role attracted all that attention because my work was good and deserved it. I work very hard, sometimes too much, at my job because I love it so much. It is more than wonderful when all your hard work is noticed and honored by your peers and the industry. Winning the Golden Globe was one of the best moments of my life.

Do you maintain your identity as Korean while acting in the U.S.?

Sandra Oh: Before anything, before I open my mouth or express something of the character I am playing, you are seeing an Asian woman, a woman of Korean descent. I carry my identity with me, it is my face. But moving beyond that, I carry my own experience to every role I play. Of course I have experienced many difficulties in this industry based on my race. It's too large a question to answer here... But that is the same for everybody. Life is not fair, it is not easy, but it is wonderful. It all depends on how you choose to live it.

Q: You have built a fan base in Korea through Grey's Anatomy. Cristina is an attractive, dignified, cynical woman, who at times is off the wall, with high ambitions to be the no. 1. In some ways, many of your fans imagine that you may be similar in reality. Would that be a correct assessment?

Sandra Oh: Yes and no. I would not characterize myself as similar to Cristina but for her work ethic and dedication to it....I find Cristina to be an emotionally stunted person with extreme communication problems, that's what I love about her and why I love to play her. But I don't share those traits; I am not at all cynical, nor am I that literal. I am messy though, very, very messy. My mother still hounds me today about it.

Q: You were born in Ottawa and reportedly started acting at the age of six. Did your parents make you start acting at an early age? When did you start to have a passion for acting? Could you talk a little bit about your parents?

Sandra Oh: I did not start acting until I was 10. I started dancing when I was four, though. My parents were not the ones who brought me to acting. I brought myself, and when I found it, I could never go back. I was very fortunate because although I loved dance (ballet) with all my heart, I knew I was not good enough to be a professional dancer. I knew I loved performing. Still nothing beats being on stage for me; I prefer the stage."

NOTE: Sandra Oh's parents left Seoul in the early 1960s for the U.S. Her father Oh Joon-soo and mother Oh Young-nam studied economics and biochemistry at different universities, but both of them transferred to the University of Toronto to continue their studies. Her father eventually moved to Ottawa in the 70s, where they still live. Sandra Oh's sister Grace (Sun-ju) is a successful lawyer, and her younger brother Raymond (San-in) is completing his PhD in genetics.

Q: What is the difference between acting in Canada and acting in Hollywood?

Sandra Oh: Huge, huge difference, both good and bad. First of all in Canada, someone like me can be a star, a leading lady. In the U.S., much more difficult. They always want to keep you in the supporting roles. It is also debatable if there is even a star system in Canada, or an indigenous film industry. Canada is still at the mercy of the U.S. film industry. In Canada, it is very difficult to make a living as an actor...In the U.S., there is more drive towards a certain kind of broad reaching success, and with that comes much more stress and sacrifice. In Canada, even if you are very successful, you can lead a very normal and healthy life. Maybe not much glamour or wealth or world reaching success, but quite normal.

Q: What does Korea mean to you?

Sandra Oh: Korea, to me is a mystery. It is a place I am told I belong to and know somewhere deep in my genetics that I belong to, but it is a mystery to me. I could say it is the birthplace and homeland of my parents, but they are just as Canadian as they are Korean, having spent the majority of their lives here in North America. I'm sure that the Korea they know and remember is long gone. It is a sometimes painful reminder, since living in North America, that I am different. It is a place I long to feel comfortable in. Ultimately, Korea is a place I wish to visit and experience again. And maybe find another part of myself.

Steve Marsi is the Managing Editor of TV Fanatic. Follow him on Google+ or email him here.

Tags: Grey's Anatomy
From Around the Web