More than a dozen fans waited outside the Hyper Sport transporter Sunday at Homestead-Miami Speedway, according to the Miami Herald, hoping to catch a glimpse of a Grey's Anatomy star.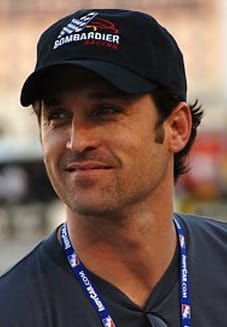 Joe Foster, a principal of the team, popped out carrying a white trash bag and said sarcastically, "This is Patrick Dempsey's trash, do you want to take a picture of it?"
Moments later, Dempsey, who plays Dr. Derek Shepherd on the ABC hit medical drama, emerged before ducking away from the crowd to prepare for the timed 2.5-hour Grand-Am Koni Challenge GS sports car race.
Patrick Dempsey wasn't here for a cameo role, to pose for the paparazzi or engage in an autograph session.
When the 41-year-old actor catches a break in his chaotic filming schedule, he competes in the pro-Am sports car series where he is a driver and part-owner.
It's a breather from changing the diapers of his six-week old twin sons, Sullivan Patrick and Darby Galen.
It's also his ultimate escape from Hollywood.
"I'm much calmer in the car," Dempsey said.
Dempsey and co-driver Charles Espenlaub of Tampa finished sixth of 39 cars in the Koni Challenge. It marked Patrick Dempsey's best finish in five Koni Challenge races and also the first time he was present for more than just race day.
Dempsey said maneuvering a sports car and going as fast as 170 mph give him more of a rush than filming dramatic Grey's Anatomy scenes.
"I really enjoy auto racing much more than I enjoy doing the show," Dempsey said. "I mean I enjoy the show, but it's a different thing because it's like a long distance race."
Filming the show lasts from July until late April, and it's difficult to squeeze his
racing passion
anything else into his schedule.
To compete in his first Grand-Am race of the season, he flew to Miami on Friday morning and was scheduled to jet to Los Angeles on Sunday night so he would be back to film the Grey's season finale at 6:45 a.m. today.
"It's such a long a haul and towards the end of it, you're just wanting to survive because you've been working so much," Dempsey said.
"You never know where you're going. There is no collaboration in the TV show. Shonda Rhimes, the show's creator, has her vision. TV is a writer's medium, so you're really a gun for hire."
Dempsey, who began taking driving lessons from Foster in 2004, has been a quick study in racing.
"He's got natural talent," Espenlaub said.
Added Foster: "He's very serious about being competitive and respected by the insiders of the sport. His motivations for being here are a little different than most of the celebrities that come through."
Dempsey is the first high-profile celebrity to race in the Grand-Am Koni Challenge, but hardly the first to try sports car racing.
Actors Paul Newman, Gene Hackman and Steve McQueen dabbled in sports car road racing.
"We're shooting for the [Rolex] 24 hours next year [at Daytona]," Dempsey said. "It's not a one- or two-year program - this is something we want to do for many years."
Steve Marsi is the Managing Editor of TV Fanatic. Follow him on Google+ or email him here.