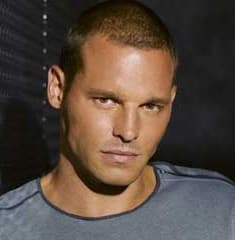 Justin Chambers can take plenty of credit, if you'd call it that, for
Grey's Anatomy
being dubbed "ER on Viagra".
From the moment the show launched two years ago, Chambers' arrogant, wise-guy intern, Alex Karev, became a character that viewers either loved or loathed, Australia's Courier-Mail notes.
But Justin Chambers, the Calvin Klein model-turned-actor, couldn't be less like his skirt-chasing character.
His career in front of a camera began when a modelling agent noticed him on a Paris subway, and he has arguably the most settled private life of the entire Grey's Anatomy cast.
He has been married to wife Keisha for 14 years and is a father of five - Isabella, twins Maya and Kaila, Eva and Jackson.
The other surprising fact about Justin Chambers, 37, is that he travelled an unconventional path to a career in showbiz.
One of five children himself, Justin had a sometimes traumatic upbringing in small town Springfield, Ohio. As a result of his parents having jobs as sheriff's deputies, he grew accustomed to tales of murder and lawlessness.
Never was this darkness more apparent than when Chambers' high-school friend, a teenager named Rodney, met a grisly end.
A man from the neighborhood suspected Rodney and other boys were stealing from him. The man reacted by bursting into Rodney's home, shooting him, his baby brother and their siblings.
A second incident, where a woman and her son were butchered by her boyfriend, also left Justin Chambers rattled.
"It was kind of nasty, some of that stuff," Chambers says. "I did a movie about the Zodiac serial killer (in which he played a 1960s detective) and it (experiences from his teens and having cops as parents) played into that.
"You know, weird things happen in small towns," he says of Springfield. "The cities get the brunt of violence, but a lot of funky (twisted) things happen in small towns. There was, like, a year of murder after murder after murder.
"Three friends of mine were murdered. It's really awful."
No surprise, then, that Justin Chambers opted not to follow his parents into a career in law enforcement.
After being signed as a model by an agent while on holiday in Paris, he scored contracts to work across Europe, Japan and the U.S.
He had designs on an acting career, however, and moved to New York for four years of study at the renowned H.B. Studios.
Chambers faced a dilemma when he was signed for the biggest break of his career - the role of insecure Alex Karev in Grey's Anatomy.
He was based in Los Angeles during the first year of Grey's Anatomy filming while his wife and children stayed in New York. His family has since moved to L.A.
It is still difficult, he adds, combining duties as a dad with a schedule that can keep him on set for up to 16 hours a day.
"We're here a lot of hours, so it's either here or home. That's my life," he says. But we're very excited (about Grey's Anatomy's success).
"We're happy people have embraced the show, even though it's out of our control, whether people watch us or not. We've all had our highs and lows as actors.
"This is the pinnacle of our careers, but you don't take it too seriously because in a couple of years it might not exist. You just ride with it and try to relish it. It does feel nice though that there's a little more security in my life."
Chambers has lost none of his passion for playing Alex, who has shown glimpses of humanity that few knew existed.
"It's great that the show allows the audience to see how these people in the medical field actually are," says Chambers, pictured below with co-stars Katherine Heigl and T.R. Knight.
"Yes, the show is soapy and about the relationships. When you (real-life medicos) work and are forced to be with people a lot of hours, there's a lot of sleeping around going on, stuff like that.
"But they (interns) are human, they are fallible, they can be immature. Sometimes we don't see that doctors are human and are flawed. This, I think, is a big aspect of the success of our show."
Steve Marsi is the Managing Editor of TV Fanatic. Follow him on Google+ or email him here.