According to Reuters, Grey's Anatomy star Ellen Pompeo has received a new deal for her services on the hit ABC medical drama.
Original cast members James Pickens, Jr., and Chandra Wilson have agreed to new contracts as well, while Justin Chambers and T.R. Knight are close to new pacts of their own to continue on the Golden Globe-winning series.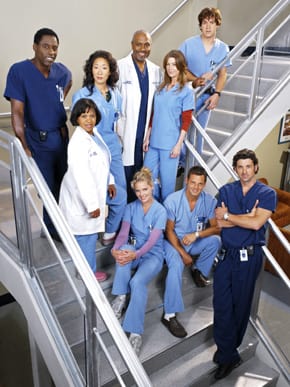 Under the new deals, all actors will receive salary bumps. Pompeo now will be at nearly
$200,000 per episode
, while Pickens, Wilson, Chambers and Knight will be paid around
$125,000 per episode
, sources close to the matter said.
It is understood that the terms of the new contracts are retroactive, going back to the first episode of Season 3.
The contract status for co-star Isaiah Washington, however, was not clear. It has been rumored that he might continue on the show without a raise in light of the recent controversy surrounding his behavior.
Washington's future may still be somewhat in doubt, but his communication with the producers regarding the situation has been kept under wraps. Representatives for both the studio and the actors declined comment.
Yet to close new deals are Patrick Dempsey and Sandra Oh, though both have been rumored to be nearing lucrative, extended contracts.
Details on Katherine Heigl's stalled contract negotiations were leaked to the media last month, which triggered a response from ABC on the matter:
"Fortunately, we have a long-term contract to ensure she'll be with the show for several years to come. In recognition of her tremendous talent and value to the show, we recently approached Katherine with an offer to raise her compensation significantly above the terms of her current contract."
All cast members on Grey's Anatomy are under long-term (reportedly seven-year) deals with the studio. However, it has become customary in the industry for the original cast members of hit shows to re-negotiate contracts and receive raises after two seasons.
Since Grey's Anatomy debuted as a mid-season replacement in March 2005, the negotiations are being held now, as the show marked two full seasons on the air, rather than the more common period in the summer and fall.
Sources said some of the Grey's Anatomy cast headed into the renegotiation process as a group that quickly dissolved, leading to individual contract talks between each cast member and the studio.
Meanwhile, Kate Walsh, who joined the cast at the end of Season 1, also has a new deal as part of her central role in the potential spin-off from the hit series, now in the works.
The cast of Grey's Anatomy recently won a SAG Award for best drama series ensemble, with Chandra Wilson winning the individual statuette for best drama series actress.
Steve Marsi is the Managing Editor of TV Fanatic. Follow him on Google+ or email him here.