This week on the Round Table, the Denny Duquette Clinic opens, Mark reverts to his steamy ways, the O'Callie marriage faces its first test, and Meredith feels anything but average ...
Did Izzie just waste $8,000,000?
McCritic: In terms of patient care, definitely. A safe sex brochure costs about 40 cents. But Dr. Stevens managed to beat out Mike Tyson and MC Hammer for quickest use of $8 million. She averaged a cool million/day in order to construct that free clinic. That mark should stand for longer than Denny lived.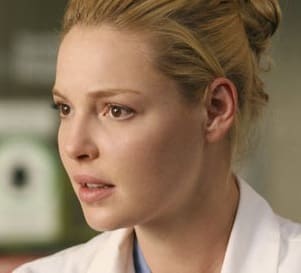 JuJuSage:
Hospital bed: $200
Box of surgical masks (size medium): $40
Saving one motherless girl from teenage pregnancy and STDs: Priceless.
iheartizzie: It's too early to tell. Having established the organization a whole eight days ago, there hasn't been time to wage a serious marketing effort. Have no fear. The clinic will one day be a resounding hit with the STD-ridden, possibly pregnant populace. The only problem may be if the budget doesn't allot for a bouncer. Once word gets around that hotties like Drs. Karev and Stevens are on staff, the line will be out the door!
Healthier course of action: Taking a cold shower or sleeping with Mark Sloan?
JuJuSage: COLD SHOWER! You'd think that with Addison's track record with men, she'd be able to play the game by now. Come on Addison, you're not THAT old! You remember how 20-something boys behave - play the game and win Karev. Don't take the consolation prize. You already made that mistake once.
McCritic: A cold shower. And to think, all Addison had to do to learn such a lesson was walk a few feet over to the Denny Duquette free clinic. Miranda would have given her the same speech about va jay-jay use that the 14-year old girl received.
iheartizzie: Mark Sloan. It's not like she married the guy, or didn't abort his baby. The Mark Sloans of the world are paradoxical: abhorrent, yet irresistable. Trusting one of them emotionally would be a grave mistake, but why deprive one's self of the pleasure derived from an occasional fling? Plus, cold water doesn't clean out your pores.
Is Meredith ordinary?
JuJuSage:
Yes, Meredith is ordinary. She is smart, kind, and hard-working, all of which are great qualities, but none of which make her extraordinary. Who cares though? If being extraordinary means being like Ellis Grey, then being ordinary and having a great career, a loving boyfriend, friends, and Joe's down the street, seems like a pretty great ordinary life.
And at least every morning she gets to wake up next to extraordinary hair...
McCritic: Of course not. She has a show named after her. Then again, so does George Lopez. Ellis Grey might be on to something ...
iheartizzie: She sure is, and that's why we love her (well, at least two thirds of this panel does). Meredith's vulnerabilities, emotional shortcomings and bad decisions are part of what makes her human. Plus, there's a thing called balance. Maybe she's not cutthroat enough when it comes to her career, and she's certainly a handful for the men in her life. But at least she has men in her life. Give her a break, Ellis!
Will the O'Malley marriage last?
iheartizzie: Of course. For all their emotional shortcomings, these two are made for each other. The sparks flew from the moment George flew down the stairs and landed in arms (which wrenched his dislocated shoulder back into place). It will be a bumpy ride at times, but now that George stood up to his McJudgy friends, Callie can rest easy - unless that sex machine Bambi keeps her up all night, of course.
McCritic: Yes. Once you move past the Britney Spears/Jason Alexander Las Vegas marriage duration of 52 hours, you're set for life. George and Callie might as well order matching sets of rocking chairs right now.
JuJuSage: In Greek history, Iphigenia was sacrificed by her father, Agamemnon, before he went to battle in the Trojan War. Is Calliope Iphigenia Torres O'Malley sacrificing herself into marriage on behalf of the grief caused by George's father? Even more intriguing is the reason Agamemnon sacrifices Iphigenia in the first place: to win back Helen of Troy, the most coveted woman in the world.
We all know who George has most coveted at Seattle Grace - will this marriage somehow lead him to her? If it's any indication on the O'Malley marriage, when Agamemnon sacrificed Iphigenia, he wos Helen…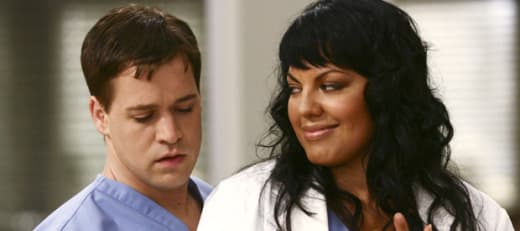 Steve Marsi is the Managing Editor of TV Fanatic. Follow him on Google+ or email him here.