Simon Cowell, Randy Jackson and Paula Abdul might be highly visible figureheads, but the executive producers of American Idol call the shots off-camera.
With that in mind, enjoy this interview with Nigel Lythgoe. He's the unknown hero of our favorite show.
Q: Paula Abdul has been in the news a lot lately. She keeps saying she's misunderstood. Is she really just an over-the-top theatrical personality?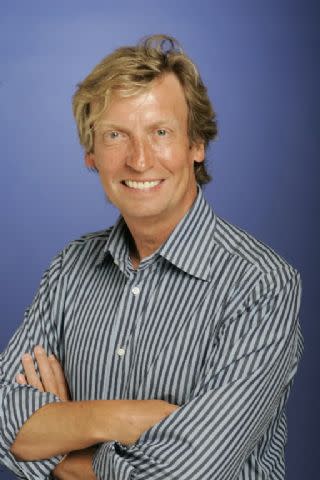 A

: Yes, she is. She won't like me saying that. But she is. Unfortunately, once you get in your head that she's drunk or she's taking drugs - neither of which she does, she certainly doesn't do social drugs or even drink - so once you've got that in your head, it's very difficult. We look when we're editing the show nowadays and say, "Hey, are people going to think she's drunk for doing that?" We try and take that into account.

At the same time, we don't want to stop her personality. She leads with her heart. She cares about the kids. And she wants to protect them. But she's also an extrovert person.

Q: There's been a lot of criticism about the judges being crueler this year.

A: We were no crueler this year than we ever have been any other year. I seem to remember when Mandisa got through, Simon Cowell saying that, "Terrible, we're going to have to strengthen the stage when she walks on it." It is always been, for some people, cruel, and for other people, honest. But this season, for me, no more and no less.

Q: Are more contestants hiding arrest records from Idol these days instead of just 'fessing up?

A: We don't get involved, as the producers of the show, in the background checks. That goes out to a private company and FOX. We are informed at the end of the day, "You can't invite this person, that person, or this person." And we don't ask why. To be frank, we're not interested.

If FOX believes that it will damage the show, or damage Fox, or damage the production, then it's best that they just don't come along.

Q: What about the contestants whose arrests are integrated into the early shows? A few had their photos shown behind bars.

A: If somebody gets busted while we're doing the show, then we won't ignore it, especially if we can put it in the television show.

Q: How do you make your choices on the contestants you're going to film and profile extensively in the beginning?

A: Backgrounds, where they come from, their stories, their human interest, what we believe our viewers will enjoy seeing, what makes you care.

Our job, we believe, is to stimulate an audience that sits down to watch a little box in the corner of the room. If we can make them angry, if we can make them cry, if we can make them happy, if we can stimulate any emotion in them, then we're doing our job.

However we do that, sometimes we overstep the mark with getting them angry. Sometimes I believe we overstep the mark in making them cry. But if it affects me and if I get emotional, I think that's going to transfer into the public.

If they care, then they will continue to watch the series. And, more importantly, they will pick up a telephone and vote for the person that they like. This isn't just a voyeuristic program; it's an interactive program, and we ask you to pick up a telephone.

Q: Do you already have front-runners for this season?

A: I think this is going to be a great season where there isn't a Kellie Pickler, a Carrie Underwood, or a Clay Aiken, that you know is going to really steal everybody's votes. This season, I think we've got a lot of excellent singers. I don't think I'm going to be ashamed of anybody that gets up there and sings this season. But they are going to have to grow.

Q: What about the rumor you'll have a Nirvana week?A: Please. Absolutely not. It's further rubbish.

Q: What's been the impact of having older contestants on the show?

A: I think that's brought us some more maturity and a little more professionalism in certain areas. We're happy about that. I wouldn't mind extending it even further next year, to be honest. I would go (to age 30).

Q: Is it tougher for younger people to do American Idol?

A: They're exceptionally resilient. You can't knock a kid down, really. The 16-year-olds bounce from one thing to another; they don't know half the music they're singing. I remember Lisa Tucker last year, we gave her, "What's It All About, Alfie?" A Burt Bacharach song. She sang it brilliantly, didn't understand a word she was singing, probably, but sang it beautifully.

That's what they do: They just take it in, sing it. "Not good enough." "OK, well I've got the rest of the my life to get it right." But when you're a bit older, when someone knocks you, you just say, "Oh my God, that's it, I'm never going to make it now." It's a bit heart-rending.

Q: How about an all-stars edition of American Idol?

A: It's something that I'm trying to make work this season. They're talking about doing a song competition on the Web, and have people write songs for the next "American Idol" finale.

My idea was, give me 10 songs, and I will bring back 10 Idol finalists to sing them on a special. Let's see Constantine Maroulis again; let's see Ace Young; let's see Vonzell, Tamyra Gray, and all of the great people that we voted for over the years. I'd love to do that. I've pitched it to FOX and FOX hasn't come back to me yet and said yes or no.

Matt Richenthal is the Editor in Chief of TV Fanatic. Follow him on Twitter and on Google+.

Tags: American Idol