Isaiah Washington, who has said he needs help to resolve issues "within my own soul" following his anti-gay remarks, is seeking counseling, he said in a statement to People Wednesday: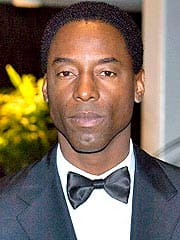 "With the support of my family and friends, I have begun counseling. I regard this as a necessary step toward understanding why I did what I did and making sure it never happens again. I appreciate the fact that I have been given this opportunity and I remain committed to transforming my negative actions into positive results, personally and professionally."
The actor remains at the center of a firestorm of controversy after using a gay slur to refer to his costar T.R. Knight, who is gay.
Shonda Rhimes, executive producer of Grey's Anatomy, replied with her own statement Wednesday - and by reading between the lines, it appears she is either not ready to decide, or unable to predict what ABC executives will do regarding Washington's future with the show.
"We applaud and encourage [Isaiah Washington's] realization that he needs help and his subsequent choice to seek immediate treatment for his behavioral issues," she said. "All parties are seeking to address the issue in a way that underscores the gravity of the situation while giving us all a foundation for healing."
Washington, who plays Dr. Preston Burke on the hit ABC show, first used the slur during an on-set argument in October, then repeated the word at the Golden Globe Awards last week, while denying he used itthe first time.
Knight has said that the incident in October prompted him to come out of the closet. Washington apologized last week and promised he would seek help.
Steve Marsi is the Managing Editor of TV Fanatic. Follow him on Google+ or email him here.