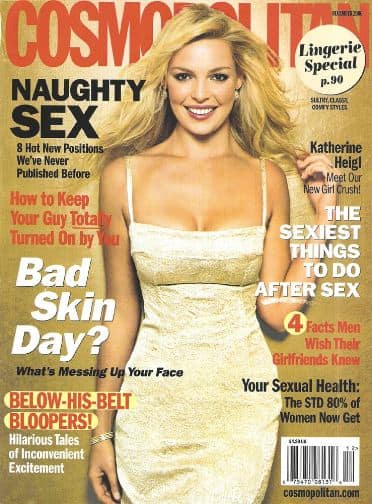 Katherine Heigl might be the hottest - and most uncensored - actress in Hollywood.
She eats with abandon, swears up a storm, and gushes about her fiancé... and her Grey's Anatomy costars.
The actress, who's the Cosmpolitan cover story for December, stands out in the crowd... and not just because she's famous. Dressed in a low-cut black camisole that she comes daringly close to spilling out of (the girl is blessed), tight jeans, and wedge heels that add at least three inches to her already 5'9" frame, she's impossible not to stare at.
As soon as she orders a dirty martini and tells the waiter "You rock" when he sets it down, it becomes clear she's impossible not to like, either.
Two years ago, 28-year-old Katherine Heigl, or simply Katie to friends, was just another beautiful blond actress making the rounds in Hollywood. Although under the radar, she'd been working pretty steadily since age 9, appearing in films like Bride of Chucky and the TV series Roswell.
But by 2004, she was worried that her career wasn't headed to the heights she'd dreamed of while growing up in the preppy town of New Canaan, Conn.
Then it happened.
She landed the role of model-turned-medical-intern Izzie Stevens on Grey's Anatomy, and just like that, she became a bona fide celebrity. Buoyed by the national obsession with the show and its gorgeous cast, Katherine now has plenty of choice roles to pick from (next summer, she'll star in the comedy Knocked Up).
In the midst of all the hoopla, she also has managed to hit it big in the love department. Katherine met rocker Josh Kelley in 2005, appearing in his video for "Only You," and she's been all about him ever since. Josh popped the question this past June.
As if that weren't enough to inspire envy, the girl has even more admirable traits: She's smart (she reads constantly), open about her love life (Josh even stopped by her interview for a smooch), and delightfully opinionated:
COSMOPOLITAN:
Besides being a blond, what do you have in common with Izzie?
KATHERINE HEIGL:
That's tough because so much of her is me — the way I laugh and talk. And by the way, my plan was to be a brown-haired Izzie, but they said no. I'd love to be a brunette. Having brown hair makes me feel more exotic.
COSMOPOLITAN:
Are you as sexually liberated as Izzie is...or do you think she's a little too quick to hop in the sack?
KATHERINE HEIGL:
She kind of is. Like, how fast did she go to bed with Alex? Pretty quickly. No, that's not how I behave. Not unless I'm with somebody that I'm truly, madly in love with. I'm not a saint, but I've learned my lessons about this sort of thing, and it's not emotionally healthy for me to sleep around. I've definitely been with people I probably didn't love, and I always felt really vulnerable in those situations.
COSMOPOLITAN: Is there anything about Izzie that you really admire?
KATHERINE HEIGL: I'd like to be how she is under all that stress and pressure. Also, she can always put a smile on her face and listen to endless hours of George whining about Meredith. She's immensely kind. Even when Alex was a complete dirtbag to her, she forgave him and gave him another chance. And he really screwed her over. Men like that have never interested me because I think I value myself too much. To go for a guy like that is to say "I want to be damaged." Izzie is too naive in that she thinks she can save him.
COSMOPOLITAN: Is Justin Chambers, who plays Alex, a good kisser?
KATHERINE HEIGL: He's a great kisser: not too aggressive, not too sloppy. He doesn't leave spit all over you. But in real life, he's like an older brother to me — always superprotective and supportive. The whole cast is, actually. I truly love them all. They're my family now, and if somebody has a problem, we're in each other's trailers working it out.
COSMOPOLITAN: How does your fiancé feel about those lip-locks?
KATHERINE HEIGL: He's not cool with it. It's funny to me because it's so not what it looks like — it's staged and technical, and what makes it hot is how they edit it, slowing it down and adding music. But he can't watch it...which is a good thing, I think. If he didn't care, I'd be a little worried.
COSMOPOLITAN: So he wouldn't be psyched if you did a nude scene?
KATHERINE HEIGL: First of all, I think nudity is distracting — the audience isn't paying attention to your acting; they're looking at your boobs. And then there's the fact that I'm not particularly comfortable with my body. I don't want the whole world seeing me completely naked. I mean, I have a hard enough time feeling comfortable walking around naked with the lights on around my fiancé! I'm flawed; I'm not perfect. But clothes help. A good bra with some underwire definitely helps a lot!
Steve Marsi is the Managing Editor of TV Fanatic. Follow him on Google+ or email him here.