Okay, so there's no new episode on tonight. After we stopped crying, we pulled it together and took the time to reflect on the five episodes of Season 3 that we've been treated to thus far.
Then we found three burning Grey's Anatomy questions in People magazine and thought we'd share them with you. Let us know what you think -- and pose ongoing questions of your own by clicking on "comments" below and sharing your thoughts!
1. Is Izzie milking it? Or losing it?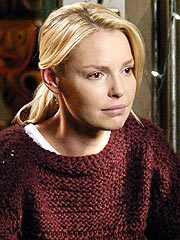 The thing about Izzie (
Katherine Heigl
) is that you're expected to always be worrying about her, and that gets exhausting. It's an Izzie tizzy!
She's almost literally paralyzed by grief over the death of Denny Duquette (Jeffrey Dean Morgan) -- understandable, since they made a great romantic team. Now she's worth $8.7 million and dreamily wondering how to use it.
As of last week, though, no one could quite persuade her to deposit the check. "I'm fine," she kept saying, with a smile, but also with a faraway look in her eyes. She's probably seeing Denny's spirit somewhere on the horizon. Feel like going back to work at some point?
2. Has Dr. Bailey gone soft?
The staff still refers to Miranda as The Nazi, but since she had her baby, has she become too much of a softie? And is that a bad thing?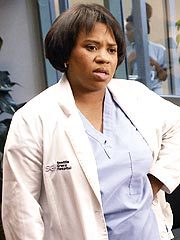 In the season premiere, "

Time Has Come Today

," she actually wept along with a patient. In "

What I Am

," she had an inspiring talk with a salesman whose face had been burned severely. This shows us a different side of Miranda, but is it the kind we want to see?

Chandra Wilson is too clever an actress not to suggest that Dr. Bailey must have been bluffing, to some degree, when she told the salesman how love and respect were what mattered in his career, and not his face. It's just that Bailey used to boast such conviction and bluntness.

She hasn't done a complete 180, but at times, she's close.

3. Can we move past Washingtongate?

It's unfortunate (not to mention frustrating and annoying) that reports of Isaiah Washington's real-life fight with Patrick Dempsey disrupted the show's free-floating romance. Grey's Anatomy is more about the invisible chemistry of love and friendship than the clinical practice of medicine.

T.R. Knight is a very good actor in a very good cast, and his character, Dr. George O'Malley, was always more of an underdog -- an unsung everyman, rather than a McDreamy-style hunk.

There's no reason any true fan won't be behind Knight 100 percent of the way, and pulling for O'Malley sort out his feelings for Drs. Meredith Grey (Ellen Pompeo) and Callie Torres (Sara Ramirez), as usual.

But it may take a few episodes to get past all the distraction, especially if some members of the media keep beating it to death.

Steve Marsi is the Managing Editor of TV Fanatic. Follow him on Google+ or email him here.

Tags: Grey's Anatomy