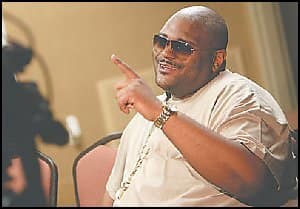 An all-ages crowd of about 500 gathered at Foster Field in
West Texas
to see and hear finalists from American Idol on Tuesday, the
San Angelo Standard-Times
reports.
Some danced, some sang along. Some nabbed autographs from their favorite performers. Others just sat in the stands and enjoyed the performance.
Bob King and his wife, Barbara, were given tickets up front as a present for their 47th anniversary, but traded tickets with a couple of kids from the stands so they could enjoy the show from good seats without the extra noise.
"The performers are good, and I enjoy watching the young kids enjoy it,'' said Barbara, excited to see her favorite pick from the show last season, Kevin Covais.
"I wanted him to win. He's a nice kid."
The audience also loved William Hung, the season three reject who became an unexpected fan favorite, and Justin Guarini, the first American Idol runner-up.
Brenna Gethers, a popular American Idol finalist, said before the show, "I'm looking forward to bringing some good music to Texas," and she delivered. Her a cappella version of Selena's "I Could Fall In Love" was a hit with the audience.
Performers included Anthony Federov, Olivia Mojica, Lindsey Cardinale, Will Makar and Melissa McGhee. But Perhaps the most popular Idol Tuesday night was season two winner Ruben Studdard (pictured) who noted that this was his first visit to West Texas.
Pearl Hardin won her tickets by being the 24th caller at a local radio station Tuesday morning. She and her 14-year-old daughter, Brittney, said they were excited about seeing Studdard.
Rebecca Baxter brought her 10-year-old daughter, Allison. The Baxters recently moved to San Angelo from Tampa, Fla.
"At least San Angelo is big enough to bring in some big name entertainment. Hopefully it will kick-start bringing some other shows here," Baxter said.
Barbara King agreed.
"I just don't think there's enough entertainment like this in San Angelo, so we go to whatever comes. We've got to back the city," she said.
Matt Richenthal is the Editor in Chief of TV Fanatic. Follow him on Twitter and on Google+.