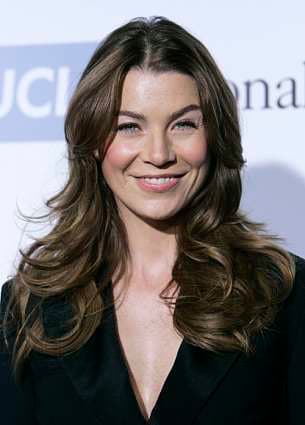 Grey's Anatomy
star
Ellen Pompeo
tells
People
magazine that being a Hollywood It Girl is like a bad junior high school flashback.
The Everett, Mass., native says, understandably, she feels like she's under attack by the tabloids for looking anorexic.
That just hurts, because Ellen has heard about being a lightweight all her life.
"Growing up, I was horribly self-conscious about how skinny I was. You think it's never going to be as horrible as sixth, seventh, eighth grade when all the other girls are getting boobs. Now, all of a sudden, people are things to me again," Pompeo said.
The 36-year-old actress, who weighs in around 100 pounds on her 5-foot-7-inch frame, insists she's taken to weight training to gain a size, but worries it's not going to be enough to convince critics.
All these reports make me so paranoid. I'm going to become an overeater," she joked.
Pompeo's sister, Maureen, tells People that her celebrity sibling has mastered the art of chowing down for as long as she can remember.
"Ellen loves to eat," she insists, adding that growing up in their Italian-American household, "her first word (as a baby) was pepperoni."
Ellen has previously stated that her jackrabbit metabolism requires her to eat 3,000 calories a day. New Grey's Anatomy star Eric Dane says the same about his own metabolism. The unfortunate double standard is a woman can't simply have a thin build without rumors flying. Hopefully, people will stop obsessing over her weight.
As for reports that Dr. Meredith Grey's alter ego is an on-set diva, Ellen's fellow docs at Seattle Grace say that's so not true. Seriously!
"She's one of the most beautifully spirited people that I know," said Chandra Wilson, who plays Dr. Miranda Bailey -- and you know the Nazi is not one to dish out praise very often.
Pompeo's fellow surgical intern, Justin Chambers, who plays the macho Alex Karev, offered a slightly different take.
"She's from Boston... she's a broad," he said.
Steve Marsi is the Managing Editor of TV Fanatic. Follow him on Google+ or email him here.