Grey's Anatomy fans know Isaiah Washington as the sexy, intense Preston Burke, whose ability to operate as a renowned cardio-thoracic surgeon is still in doubt after he suffered gunshot wounds at the end of Season 2.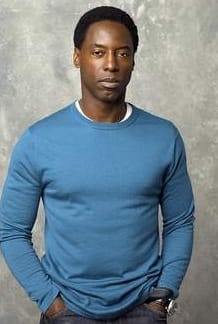 While Dr. Burke's rehab and physical therapy are just beginning, you won't see Washington taking a similar leave of absence. The actor has been using his TV celebrity status to bring awareness to many charitable causes, including humanitarian issues in
Sierra Leone
.
Earlier this year, the actor, 43, found out he had ancestral ties to the Mende tribe, thanks to a DNA test through AfricanAncestry.com. This summer, he went to Sierra Leone to film a documentary on his discovery and on the tribal relatives he had never met. The documentary is a work in progress and should be done in 3-4 years, he says.
Here's what the husband, father and Houston native had to say about his journey to Africa and other subjects in an interview with the Detroit News:
On going home:
"I traveled 10 days and got to know my Mende relatives, who made me a tribal chief. So I went to the United Nations and made them aware of what's going on in Sierra Leone. Now that I know I share ancestry with the people, there's a real connection. I'm not just some celebrity showing off. I have a home there and access to 600 acres, where I would like to build a hotel."
On tracing his roots:
"I've always been interested in Africa and I wanted to give meaning to the term African-American."
On Dr. Burke and his career:
"I haven't been interested in any other roles other than Dr. Burke. I've been in close to 40 films, so I don't have that kick in my stomach to want to make movies. I'm very interested in being a producer and being my own boss. I've been given a platform and have walked through doors I wouldn't have been able to without this show. I met with the President and State Department heads to talk about something (Sierra Leone) I feel very passionate about."
On filming in Detroit during Out of Sight:
"I had a blast in Detroit. The people are really cool."

On his beautiful pearly whites:
"I try to stay on top of it. I get a cleaning every three months, and I drink a lot of water."
Steve Marsi is the Managing Editor of TV Fanatic. Follow him on Google+ or email him here.