What happens when the worlds of Clay Aiken and Martha Stewart collide, as they will today when our man appears on the mogul's TV show? American Idol Worship's correspondent offers her take, along with the recipe Clay will reportedly be baking with his Granny Aiken.
~~~~~~~~~~~~~~~~~~~~
Ladies and gentlemen, that thunderous sound you're hearing is not an approaching hurricane, tsunami, or herd of buffalo rumbling across the plains... it is the sound of thousands of Claymates stampeding over to the local Win Dixie, Safeway, Stop & Shop or Piggly Wiggly to buy the ingredients for hot pineapple salad.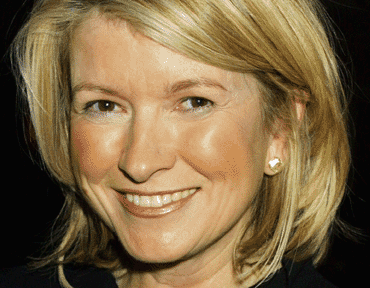 What in the heck is hot pineapple salad, anyway?
Is it a southern specialty handed down for generations in the Aiken family? And why would anybody want to try it? It sounds disgusting!
Suffice it to say, when
Clay Aiken
does his cooking episode on the
Martha Stewart Living
show, you can bet that every Claymate worth their oh-fish-you-all fan club membership card is going to be cooking right along with him on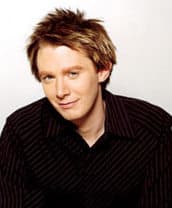 TV.
A promotional clip aired yesterday on Martha Stewart Living, and if that wasn't enough to send the Clay Aiken fans into a lather, the publication of the actual recipe on Martha Stewart's official website this morning has caused discussions of the gravest order today.
Texans are baffled by an ingredient list that calls for medium-sharp cheddar cheese, as they haven't seen it in stores. A fan from Maryland only knows of New York extra-sharp cheddar. Will that work as well?
The Oregonian knows all about cheese flavor grades due to the Tillamook and Bandon cheese-making factories practically in her backyard, and is offering overnight shipping to her ingredient-challenged friends. So do we need Clay's size 13 sneakers to crush the Ritz crackers in the sleeve? All for one, and one for all these Claymates!
What will this mystery concoction taste like?
Are fans willing to actually taste it before Clay Aiken smacks his lips on national TV and declares it delicious? After all, this is a man who admitted to hiring a personal chef, as cooking is not his forte unless it is mac 'n cheese, Breyers peach ice cream, Krispy Kreme doughnuts or Hot Pockets.
After carefully perusing the recipe, I have come to the conclusion that other than the odd addition of pineapple for crying out loud, anything that contains half a stick of butter and sugar and flour can't be that bad! It must be the title of salad that has thrown this Home Economics major off, as we never cooked anything like this in Cooking 101.
Back in the day, salads were green, leafy and good for you, while this one sounds like an artery-choking debacle of the first order. So, using the logic that things made with butter and sugar are always delicious, I'm just going to take the liberty of re-naming Clay's special "salad" to Clay's Cake-O-Lovin-From-The-Oven.
Who bakes a salad anyway?
~~~~~~~~~~~~~~~~~~~~~~~~
HOT PINEAPPLE SALAD
SERVES 8-10
Ingredients: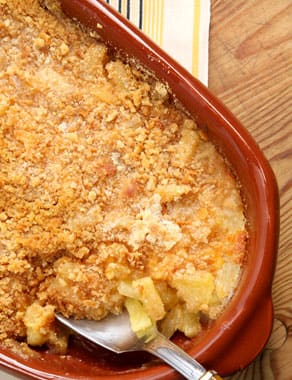 1 20-ounce can pineapple tidbits with juice
1 cup sugar
6 tablespoons self-rising flour
2 cups grated medium-sharp cheddar cheese
1 sleeve Ritz crackers, crushed
1/2 cup (1 stick) unsalted butter, melted
Directions:
Preheat oven to 350°.
In a medium bowl, combine pineapple, sugar, flour, and cheese.
Transfer to a 2-quart shallow baking dish.
Top with crushed crackers and drizzle with melted butter.
Bake for 40 minutes.
Let stand 10 minutes before serving.
NOTE: Recipe courtesy of Clay Aiken.
Matt Richenthal is the Editor in Chief of TV Fanatic. Follow him on Twitter and on Google+.