Hit TV shows seldom make for hit video games. American Idol has already been translated into the medium, and the game flopped.
Yet another video game company, Konami, thinks it can succeed with its own version of TV's top reality show. Why? The interaction. The judges. The songs. How can you go wrong, right? "Karaoke Revolution Presents: American Idol" for PlayStation 2, due out this winter, will allow gamers to sing into a microphone and get their crooning rated by the show's judges.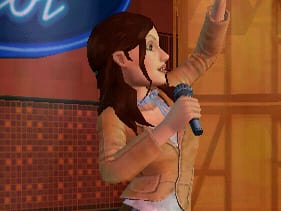 Two of them, anyway. Konami announced that its game will include digital versions of
Simon Cowell
and Randy Jackson. The much-maligned Paula Abdul will not be appearing, and no one has said why. AIW can only begin to imagine.
"For anyone who wants to know what it's like to audition in front of me, now you're going to find out," Cowell said, according to press release issued recently by Konami.
While Paula won't appear in cyber form to be amazed and inspired by your efforts, she'll be there in spirit, VH1 reports -- a cover of her song "Straight Up" will be among the 40 tracks players can sing to in the game.
Also included will be Kelly Clarkson's "Breakaway," Taylor Hicks' "Do I Make You Proud," Ruben Studdard's "Flying Without Wings," Bo Bice's "The Real Thing" and the Clay Aiken staple "Don't Let the Sun Go Down on Me."
Rounding out the track list are covers of songs such as Duran Duran's "Hungry Like the Wolf" and the William Hung / Ricky Martin classic, "She Bangs."
The "Karaoke Revolution" game requires players to sing along to versions of popular songs. The games typically depict a lone singer performing onstage. The crowd cheers, and lights and pyro flash when the player's singing is at the right pitch. The effects stop and the boos rain down upon you when the singing clangs.
Konami's "Idol" game will bring wannabe players through each of the show's signature stages, from audition venues to the finals. They can rise through the ranks of a solo-singing campaign or play with friends in sing-offs and duets. According to the company, the game will also include video footage of performances from the past five seasons' winners.
Matt Richenthal is the Editor in Chief of TV Fanatic. Follow him on Twitter and on Google+.