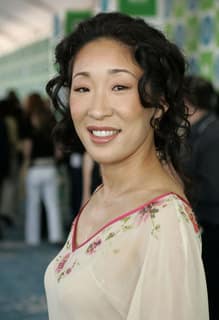 The power of celebrity is great, and several notable ones are hoping to lend their star status for an important cause at the 2006 International AIDS conference in Toronto this week, reports the
Toronto Star
.
Emmy-nominated Grey's Anatomy star Sandra Oh, a Canada native, will be on hand, along with some pretty exclusive company, namely former President Bill Clinton and the world's biggest philanthropists, Bill and Melinda Gates.
More than 30,000 scientists and academics, activists and others have come together at the global conference, but the celebrity musicians, actors, and politicians will influence how the message gets out.
Just think of Angelina Jolie's adoption of an African AIDS orphan, or how she and Brad Pitt have already given millions to that continent's health initiatives. It's proof that darkly serious issues such as AIDS transcend pop culture because ordinary people can link celebrity and substance.
"If people who have no contact with AIDS or who don't think it has anything to do with their community see some of the big names that are a part of this conference, then it contributes to the awareness raising and health promotion," says Gene Long, a communications spokesperson and volunteer organizer for
AIDS 2006
.
On Saturday, Sandra Oh and American actor Olympia Dukakis opened the AIDS 2006 Toronto Film Festival at Royal Ontario Museum. On Sunday, the Gates' (whose foundation has given more than $500M to AIDS research) were joined by actor Richard Gere in speaking at the conference gala. On that same day, Alicia Keys, Our Lady Peace, and others headlined a concert.
The HIV/AIDS conference, which runs through August 18, will featured art exhibitions, too. The ROM will bring out an iconic sculpture from storage, while the Art Gallery of Ontario's exhibit Silent|Listen will run until the end of November, using collections of recordings from museum performances and discussions with AIDS activists, artists and others.
The Insider would like to applaud Sandra for her dedication to this monumental global effort. With stars such as Oh, Isaiah Washington and others, the Grey's Anatomy cast is comprised of both talented performers and good people.
Steve Marsi is the Managing Editor of TV Fanatic. Follow him on Google+ or email him here.