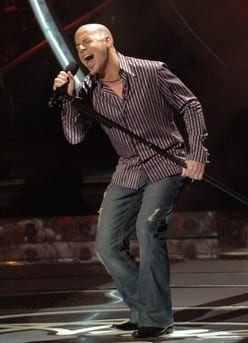 's record label, RCA, has issued a press release containing information about his upcoming album.
The news reveals the album's expected release date -- November 21, a week after his Idol counterparts release their debuts.
It also talks about his producer (Howard Benson, who has worked with the All American Rejects, My Chemical Romance, Papa Roach, Hoobastank and more), and some songwriting collaborators, including folks from Three Doors Down, Fuel (which unsuccessfully tried to recruit Chris as lead singer) and Rob Thomas.
The popular vocalist is also putting together a band, to be called simply Daughtry, with a brand new website in the works.
The release does not include a title for his single, which is scheduled to be available by late September. For the benefit of Chris fans who want to read the whole thing, and also those who appreciate the verbose, self-adulating nature of entertainment industry press releases, we've posted the full version beneath our page break.
~~~~~~~~~~~~~~~~~~~~~~~
Chris Daughtry, whose sturdy rock presence and distinctive vocal style won the hearts and minds of American Idol Season 5 fans across the globe, has begun working on his much anticipated debut album. Expected to hit stores on November 21, the new disc, released by 19 Recordings/RCA Records, is purportedly drenched with the same cutting-edge attitude and startling rock immediacy that made Daughtry a household name.
Noted rock producer Howard Benson (All American Rejects, Papa Roach, My Chemical Romance, Hoobastank) will helm the CD, with Daughtry writing his own songs, as well as being joined by a slew of high profile artists in fertile writing sessions for the album, including Brad Arnold (Three Doors Down), Carl Bell (Fuel), Mitch Allan (SR-71), and Rob Thomas (Matchbox 20), among others.
It was Daughtry's stirring live versions of Fuel's "Hemorrhage In My Hands," and Bon Jovi's "Wanted Dead Or Alive," that were cited as highlights of the show's past season, with the latter song, culled from the American Idol Season 5 compilation, scoring big on Billboard's singles and digital chart.
The multi-talented singer/songwriter promises to mine the rock vein even more on his debut release.
"I'm writing on my own, as well as getting together with some great artists and songwriters who I've always respected and who have expressed an interest in collaborating with me. It's been thrilling to approach this album as a new canvas, with the experience of the show and such an incredible year to draw on," the North Carolina native said.
Daughtry's reign as one of American Idol's most popular non-winners (his surprise 4th place finish in Season 5 was one of the most hotly contested Idol votes in the show's history) has not waned.
He's fast become the most acclaimed figure on the current "American Idols Live! Tour 2006," drawing raves from both critics and fans.
Reports E! Online: "Chris Daughtry has received near-universal praise. One of the trek's biggest attractions…"
As well as from EW.com: "Daughtry may be poised for the biggest post-Idol career…"
The hectic grind of the Season 5 juggernaut, scheduled to run through September, has left little room for R&R for the tireless singer, as he fills his off-days with both writing and pre-production sessions.
With full-blown recording sessions lined up for the end of August, Daughtry has had to put his combustible talent into overdrive.
"It's been crazy but rewarding, he said.
The first single, still under-wraps by the record label, is slated to hit radio in late September.
Matt Richenthal is the Editor in Chief of TV Fanatic. Follow him on Twitter and on Google+.