She's a busy girl, touring the country and singing her heart out. But if you thought fame was going to Kellie Pickler's head, you'd be dead wrong. The down-home North Carolina girl is still the same kid we fell in love with this spring, and her personality continues to shine brightly and warm our hearts. Boy, does she love exclaimation points! Kellie was kind enough to share her thoughts on the tour with USA Today this week. Here's her journal entry:
~~~~~~~~~~~~~~~~~~~~~~~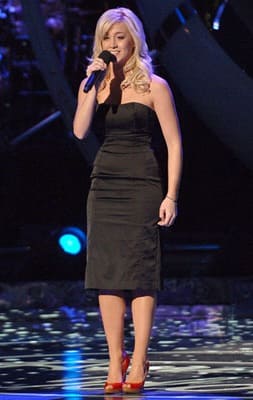 It feels like only yesterday when I got in line at the Greensboro Coliseum for the Season 5 auditions for American Idol. I will never forget the feeling that came over me when Paula, Randy, and Simon gave me my golden ticket and said, "Welcome to Hollywood."
That was the beginning of the rest of my life. Thank you again, everyone at American Idol -- you have made what I thought was only a dream become a reality!
Since American Idol ended in May of this year, the Top 10 Idols including myself have been on the road touring the country. We've only been on the tour a few weeks and so much has happened. Follow me on my journey with who America chose as its top 10 American Idols!
So far we have toured throughout the East Coast and we are not done yet! We have had the opportunity to meet so many incredible people. I will never forget one night when we finished a show, Cyndi Lauper came backstage and just hung out with us and gave us tips on performing and taking care of our voices. We all couldn't believe that she was at our concert.
We were all in shock that she knew who we were. She was so nice and gave great advice. That same week when we were in New York, Elliott, Chris, Ace, Bucky, and I met all the guys from Nickelback. They invited us to their concert and put on an incredible concert and also gave us great advice. Once again, it was crazy to think that these legendary artists knew who we were!
When I thought it couldn't get any better I was wrong ... the next day I received a phone call from my manager saying that I was invited to be a guest cohost on The View!!!! So not only did I have the privilege to tour with the top 10 Idols but now I get to be on The View! Now I have to be honest, I was so nervous sitting beside Barbara Walters. I was so scared that I would embarrass myself.
I think that was the first time I actually thought about what I was going to say before I said it! It was also a really important day for me as I was able to exclusively announce my big news, my record deal with 19 Recordings /BNA Records!! I'm so excited to part of the Sony BMG family and can't wait to start recording my album!
New York was definitely one of my favorite places!!!! Then we went to Washington, D.C., we were invited to tour the White House and meet the President. I have to be honest with you, when we were in the library I was a little curious, so I pushed on all of the bookshelves just to see if one of them happened to turn and lead into a secret passageway.
Then Bucky came over and told me that I was doing it wrong, and he started pulling on all the books like they were levers! It was just like you see in movies except we didn't find anything ... ha ha! Being able to meet President Bush was an honor. It is not every day that you get to say that you toured the Oval Office and met the President. Mr. Bush was very inspiring and had great words of wisdom.
Our first hometown show was Elliott's hometown in Richmond, Va. It was a great show, everyone was Elliott-crazy. I will never forget looking out in that crowd ... everyone had on bright green shirts with Elliott's face on them and were waving bright green glow sticks. Richmond was a great way to kick off our first hometown show!
Next stop....... NORTH CAROLINA!!!!!
Bucky, Chris, and I were so excited about the Greensboro and Charlotte shows! It felt so good to be home even though it was for only a few days. We were all so excited about being back in the South! Man, had we missed the Southern cooking.
The first thing Bucky did when we got off the bus was order a big glass of sweet tea! Mandisa and I were so happy when we got off the bus in Greensboro and people greeted us by saying "Hey ya'll!!" For once we were surrounded by the same accent! North Carolina was one of the best audiences we'd had! I am very lucky to come from a state that supports me like they do!
Until next time...
Love,
Kellie!
Matt Richenthal is the Editor in Chief of TV Fanatic. Follow him on Twitter and on Google+.