Even with the recent heat wave in full force, Isaiah Washington looks cool in aviator shades, cargo shorts, a T-shirt from Bora Bora (where he recently vacationed with his family), white Adidas sneakers and leather bracelets on his right ankle.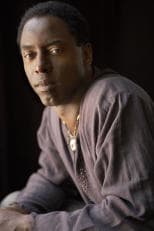 Not even a drop of sweat.
"Anyone from Houston should be used to this. It's the kind of heat you get sitting on the back porch in northeast Houston," the 43-year-old told the Houston Chronicle.
The enormous success of Grey's Anatomy and a movie career spanning nearly two decades haven't spoiled Washington. He easily could command the royal treatment, but that's not his style. The Houston native, who grew up in Missouri City and was in the first graduating class at Willowridge High School, is relaxed about his fame.
"You'll have to tell me to shut up," he warns.
Unlike his Grey's Anatomy role as the consummate professional, usually reserved Dr. Preston Burke, Washington is a talker. He's gregarious and funny, a spirited bohemian who enjoys eclectic clothes and vegetarian cooking.
If given a free second, he takes an hour to talk about Grey's Anatomy, his production company (Coalhouse Productions) and about investing in his war-torn ancestral homeload. He recently traced his mother's ancestry to the Mende people of Sierra Leone, and visited there along with a U.S. delegation.
Simply put, Washington has a lot to say.
"I've always wanted my work to speak for itself. I always knew that if I had the opportunity to be celebrated, I would shine," he said.
The spotlight has been fixed on Washington since the show started. He was named one of People magazine's "50 Most Beautiful" people in May and graced the June 19 cover of TV Guide for its "Sexiest Men" issue. He received the NAACP's Image Award for outstanding actor in a drama series and has appeared on The Oprah Winfrey Show, The View and The Tavis Smiley Show.
Washington says Dr. Burke, a Seattle surgeon who falls for an intern played by Sandra Oh, is one of the best roles to cross his path in many years.
"I used to be the guy who said if you're doing TV, you're selling out," Washington said, adding that the unemployment line is less appealing. "For 15 years, I could work with some terrible people and survive it because I knew in about 90 days it would be over. Here, if I'm having a great time it's great, but if I'm having a bad time it has to be great, too. This is a real job and everything that goes with it."
JUST ANOTHER DAY ON THE JOB
It's Washington's first day back on the set since April, when the cast took a three-month hiatus from its grueling schedule of 16-hour shifts, six days a week.
"When I say I took time off, I took time off," Washington said.
He approaches Oh and series creator Shonda Rhimes, who are discussing a script outside, and introduces them.
"This is Shonda, the writer/producer extraordinaire who changed the face of TV in the millennium as we know it, and Emmy-nominated Sandra Oh," he says with a gracious bow.
Like a doting father when it comes to his co-workers, Washington is most proud the show has African-American women in key roles. Co-producer and medical adviser Dr. Zoanne Clack and actress Chandra Wilson, who plays Dr. Miranda Bailey, are both African-American and native Houstonians. James Pickens, Jr., who plays surgery chief Dr. Richard Webber, also is black.
The show has received 11 Emmy nominations, and Wilson and Oh are both nominated for Outstanding Supporting Actress honors.
"[ABC was] concerned that there were too many people of color involved in the show and too many women. They fought it every step of the way. Now you see it was the right time for Grey's Anatomy. The right time," Washington said. "When you go behind these doors, you completely forget you are on a theatrical set. This is the magic that we all feed off of."
Washington points out the sets of the operating rooms, locker rooms, the main hallway (where Grey's doctors congregate) and Joe's Emerald City Bar, which are all nearby. Burke's on-air apartment is undergoing renovation, says the star, who actually helped select the paint color and recommended the exposed brick. He even added a personal touch: a framed photo of his great-grandmother Della Amos Brown.
"That's Big Mama," Washington says of the picture on his nightstand. "She watches over not only me but the entire apartment."
A STRAIGHT-LACED REBEL
Born Isiah Washington on August 3, 1963, Washington legally changed his name to "Isaiah" as an adult. He says he showed his family the correct spelling of his name by opening the Bible.
"We were country. We didn't know," he said, laughing.
He grew up in the Studewood area of Houston with his mother, Faye McKee, and sister, Savannah Delores Jones. When Washington was just 13, he heard on TV news that his father, also Isiah Washington, had been murdered in the Acres Homes area. He vowed to make his name famous.
McKee eventually moved the family to Missouri City. At Willowridge High School, Washington was a popular student, an athlete who made good grades, participated in school plays and, as football captain, escorted his high school sweetheart to homecoming. He was focused and driven, avoiding many of the pitfalls of youth.
"I'm not surprised he turned out to be a success," said his former history teacher, Richard Wilson, who retired in 2005. "He was very much a leader. I don't watch the show every week, but I tell my wife all the time, 'You know, I taught Isaiah.'"
Washington hoped his athletic prowess would earn him a college scholarship, but when it didn't, he enlisted in the U.S. Air Force, studying engineering at night. At 21, he married briefly and divorced. Then he studied theater at Howard University in Washington, D.C. He was passionate about his craft, but jobs and money were tight.
In 1986, Washington saw director Spike Lee's first feature film, She's Gotta Have It, and decided he had to work with Lee.
"I sought Spike out like a stalker. I'd follow his car. Wherever he was, I'd toss my photo and resume into the car," Washington said.
Isaiah had appeared in several plays, a couple of TV movies and numerous TV series (Homicide, New York Undercover) by the time he met Lee in 1993 on the set of Strapped. He went on to appear in the director's Crooklyn, Girl 6, Clockers and Get on the Bus. He later starred in Love Jones, Romeo Must Die, Welcome to Collinwood and True Crime.
Washington was a rebel who wore his hair twisted or in locks and often sported a mustache or goatee to prove a point to Hollywood.
"They felt it was important for me to cut my hair and look presentable. I put myself and everyone else at risk to prove a point that it's not about what an African-American man looks like in this town," Washington said.
Eventually, the only parts he got were street thugs and gangsters. It was not because of his hair, but being typecast into negative roles.
For the actor, a part as a corrupt music executive in 2003's Hollywood Homicide was the last straw. Refusing to portray hoodlums any longer, Washington began exploring TV roles and auditioned for the role of Dr. Derek Shepherd, now played by Patrick Dempsey, on Grey's Anatomy.
He didn't get the part, but was asked to consider Dr. Burke. For Isaiah, it was a chance to develop the character of a talented, but flawed man. It was also his first time in a hospital setting since his mother died in 2001 from sarcoidosis, a lung disease. Her death ended Washington's trips to Houston, though his sister and her children visit him in L.A.
A MAN OF STYLE
"I enjoy being a husband. I enjoy being a dad. I enjoy being an actor. I enjoy traveling without an entourage," Washington said. "I enjoy making choices that people are happy to ask, 'Mr. Washington, can I take your picture?' and not 'Gotcha!'"
Washington is living life right.
He's been married for 10 years to Jenisa Marie Washington, a Houston native and fashion designer. They met in L.A. at a dinner Washington nearly turned down. Washington credits her with molding his eclectic fashion style. Where Dr. Burke is Hugo Boss and the Gap, Washington is Prada and Neil Barrett.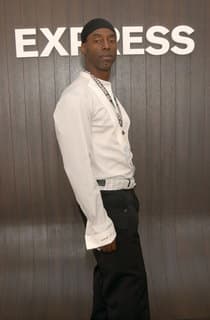 "Have you seen my wife? She has the most exquisite eyes. She has a bald head and those eyes," he said.
In 1999, the couple started a clothing line called SOLD Apparel, which was available at Barneys, Nordstrom and other retailers. They moved from their apartment as company HQ to a 6,000-square-foot office with 20 employees. After the terrorist attacks of September 11, 2001, however, business got slow and the company closed.
The couple have two sons, Isaiah Akin, 7, and Tyme, 4, and a daughter, Iman, 1.
With a great TV role and solid family life, Washington is now focused on Coalhouse Productions. He has acquired the rights to produce and star in a film based on the life of Clarence B. Jones, the speechwriter for Martin Luther King Jr., and has created several public-service announcements for the Los Angeles Food Bank.
For years, he struggled to find out about his African-American history and even became a Muslim for six months. The daily prayer rituals interfered with his acting auditions, and he eventually dropped the faith altogether.
"I wore kente cloth and cowrie shells in my locks, but I knew nothing about myself. I realized that everything I knew I read in a book. Now I'm not reading someone else's history," he said.
Washington now serves on the board of African Ancestry, a national group that helps people trace their African lineages using DNA testing. He went to Sierra Leone in May with a support team, including a plastic surgeon, an architect, a federal agent and an NAACP international affairs attorney. He hopes to use his celebrity to help the people, who are in dire need of food, medical supplies, clean water and educational facilities.
"Going back to Sierra Leone has given me an unbelievable peace," he said.
INNER PEACE
The day is over, and Washington tucks a framed TV Guide and a copy of Jimmy Carter's The Unfinished Presidency under one arm and a box -- a gift from Stephen McPherson, president of ABC Entertainment -- under the other.
He comments about seeing Lyle Lovett, another Texan, in concert at L.A.'s Greek Theater the night before. He professes a love for country music.
"They are great storytellers. That's why Grey's Anatomy is doing so well. It's great storytelling," he said.
The box, Washington later reveal, contains a bottle of wine with a note:
"We took a vote, and you're the best. Stephen McPherson."
Washington voice softens.
"I'm going to frame it. That really moves me," he says.
Steve Marsi is the Managing Editor of TV Fanatic. Follow him on Google+ or email him here.