Clay Aiken Album Cover, Online Track Released; Jimmy Kimmel Live Performance Already Sold Out
Matt Richenthal at . Comments
Add another live performance from Clay Aiken to your schedule in the coming months -- but unless you already have tickets, you're not getting them!
On September 26, Clay will be performing an outdoor mini-concert on ABC's Jimmy Kimmel Live. Not surprisingly, at least to those familiar with Aiken fans, that date is one of only two Jimmy Kimmel shows sold out thus far in the month of September. At least there's television!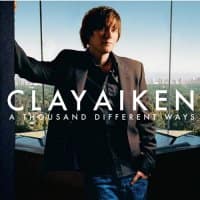 In another news, we've come across the cover art for Clay's upcoming CD, A Thousand Different Ways (right). It looks pretty sharp! The album is scheduled to hit stores September 19. Clay's official website has been updated with a new look and a sharp new picture from his album photoshoot.
Clay also has a new, official MySpace page for fans to check out. Rest assured, it's the real deal, not one of the many celebrity impostor pages out there in the crazy myspace world.
One of the songs on the upcoming CD -- "Without You," a cover of the song by Badfinger and made famous by Harry Nilsson -- is already up on the myspace page and has fans raving. Imagine when we hear the whole album.
Matt Richenthal is the Editor in Chief of TV Fanatic. Follow him on Twitter and on Google+.