In an interview before her concert Saturday night at Central Pennsylvania's RiverPlace, Carrie Underwood promised a few surprises.
Turns out, according to the Morning Call, she wasn't kidding.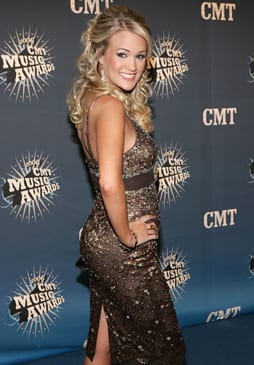 Who would have thought that the country sweetheart would wow the sellout MusikFest crowd of over 6,500 with near-perfect renditions of Guns N' Roses' "Patience" and "Sweet Child O' Mine?"
Underwood, 23, said she would perform some covers along with material from her own chart-topping debut album, Some Hearts.
But the audience, ranging from grandmothers to grade-schoolers, probably expected the American Idol winner to cover classics from the playlists of Martina McBride or Reba McEntire, not GNR.
Imagine their surprise when, instead, they got a double dose of Axl Rose.
Underwood looked like a Nashville princess with a white tank-top and pink skirt, complemented by cowboy boots. Several songs, however, were more Pat Benatar than Pat Boone. The Oklahoma native's entire 16-song, 70-minute performance was louder and edgier than the material found on her platinum-selling country hit "Jesus Take The Wheel."
No one seemed to mind. Not only did Underwood attempt to bust loose from the sappy-sweet country mold, but she did it remarkably well, showcasing the vocal power and gusto of the first American Idol winner, Kelly Clarkson.
She delivered the country goods as well, flawlessly hitting "Don't Forget To Remember Me" during an acoustic section, in which she also played guitar, and mixed in a shortened version of Dolly Parton's "Jolene."
However, Underwood, who seems to rank highly as both a role-model for young females and as hot property among young males, is still in the process of finding herself as a performer. Her uneasiness on stage is a big part of her genuineness and charm, but at times she lacks pizzazz.
Her between-song routine of sipping water, talking about the weather and thanking everyone -- over and over again -- is awfully sweet, but could be a little spruced up! Nonetheless, it's wonderful in a way to see the innocence and sincerity about Underwood, that she has yet to be tarnished by big-time success.
"Just a year and a half ago, I was just a typical college student," she said.
Carrie's diploma may have arrived in the mail on Saturday, but she's still got that school-girl naivete. And all of us here at AIW love her for who she is!
Matt Richenthal is the Editor in Chief of TV Fanatic. Follow him on Twitter and on Google+.