NOTE: The following column was originally written during Season Five. Photos copyright En Avant Photography, 2005; Used by permission.
~~~~~~~~~~~~~~~~~~~
THE SECOND SINGER awaits her verbal assault from the judges and I am all ears. Slicing across my attention span is the shrill tone of the telephone. I ignore it, straining to hear the judges' critiques, but the phone continues its annoying call. Hurriedly, I check the caller ID and realize that I have to answer as it is a RSVP for the bridal shower I am hosting that week. It is obviously not one of my nearest and dearest calling because they know to never call on a Tuesday or Wednesday night when American Idol is on.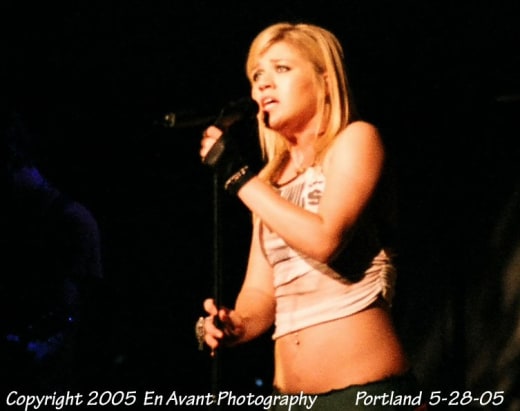 Yes, I am 50 years old and addicted to a TV program.
"Mom, turn the channel to FOX; there is this great program that Allison told me about."
How innocently it all started. Early that summer of 2002 we gathered as a family to check out this new TV reality show program.
It looked OK: no swearing, the girls mostly covered up, no off-color jokes or on-air vomiting like Survivor.
And could that Kelly Clarkson sing! Within one episode we were hooked.
Tuesday and Wednesday nights found us clustered around the television to cheer on our favorite contestants, and to moan in agony when the judges didn't agree with our verdicts.
Week after week, the contestants were whittled away, some deservedly, others not. As a foursome we leapt jubilantly from our couches when Kelly was proclaimed the winner over Justin Guarini from the Kodak Theater in Hollywood. Although we didn't make that first American Idol concert tour, we bought Kelly's CD as soon as it was released.
Now in season five, with over 25 months of
American Idol
under my belt, it still sucks me into its vortex, and I am a part of the 27-32 million that watch weekly.
AMERICAN IDOL is not a new concept; it was pirated directly from the British Pop Idol program. Antagonistic judge Simon Cowell came with the British version when it leap-frogged across the pond. Judges Paula Abdul, former hit pop singer and dancer, and Randy Jackson, former member of the R & B group Journey, have also been with the American version since its debut.
Each brings a unique perspective to the critiques: sometimes goofy, sometimes heartfelt, often mean and insulting if the singer isn't Simon's cup of tea. While they differ in taste of who will be "saleable" and "marketable," they have paid their dues in the music industry.
Paula speaks as a mother hen nurturing her little chicks and tries to always be positive. Randy gives his reviews in street vernacular -- "Yo dawg! I'm feeling it tonight dawg! You brought it home and did your thang" -- whatever the heck that is supposed to mean. Simon is, well, generally insulting and rude.
Surprisingly enough, I find myself agreeing with him the majority of the time, and singers who do listen to his criticisms and change accordingly usually end up as better performers.
It is Thursday, and time for Idol lunch with two co-workers. Why would three middle-aged women care about the plight and performances of 12 unknowns on the stage? Are the young singers that good, or their personal stories so compelling? Were we vicariously living out our pop starlet fantasies? Did they just need a virtual hug from warm, motherly arms after another verbal assault from Simon?
Whatever the draw, it is enough to gather us together at least once a week to review each performance, give out our grades, and debate the official results. One co-worker even had a polymer chemist in his late '60s start an American Idol discussion with her on a recent flight, proving that the program appeals to all ages.
To some fans, it is only a diversion from the realities of life with kids, mortgages, and full-time jobs. To others, it has changed their entire pursuit of leisure time. Ladies' clubs or golf get-togethers are now replaced by online conversations with like-minded fans of a chosen singer who may have competed several seasons prior, or is one of this year's contestants. New fan boards erupt with rabbit-breeding speed to join the already established online communities.
Fanclub meetings, concert tours, apparel, record deals, and record sales -- all have taken flight due to this amazing, adopted, pop culture phenomenon. American Idol is a giant unto itself and has proven to be a ratings blockbuster for FOX TV. It is the number one rated show in the coveted 18-49 age demographic and blew out the Winter Olympics TV coverage on the nights that it aired.
Everybody wants a piece of Idol. Other networks scrabbled to throw out their versions -- Rock Star: INXS, Skating with Celebrities, Dancing with the Stars, American Idol Juniors. While some have proved to be successful, none have captured the fancy of the average viewer like Idol. Routinely, it slays the competition in the 18-49 age demographic and grabs an even greater share of the overall viewership.
American Idol has energized the recording industry as the winners and runners-up from the previous 4 seasons have collectively sold more than 15.5 million CDs. Several contestants who have finished in the top half have gone on to star on Broadway and in TV shows and specials, and have released their own CDs.
They have toured with other headliners, and in some cases independently on the strength of their own name and popularity:
Season One winner Kelly Clarkson (below) leads sales with over 7,240,668 units sold of her albums Thankful and Breakaway combined.
Clay Aiken, Season Two runner-up, has sold 2,729,966 of his first CD, Measure of a Man, and 1,151,000 of Merry Christmas With Love. He also starred in "A Clay Aiken Christmas" in December 2004 on TV, and will be releasing a dual disc CD/DVD within the next three months.
Season Two winner Ruben Studdard sold 1,776,999 of his debut album Soulful, while the follow-up, I Need an Angel, sold 428,204. His third CD is due out in early summer.
Season Three victor Fantasia Barrino debuted with sales of 1,658,130 for her album Free Yourself.
Season Four winner Carrie Underwood's first CD, Some Hearts, released 11-15-05, was just awarded triple platinum status.
Her runner-up, Bo Bice, released his album, The Real Thing, in mid-December '05, and has sold 580,149 copies.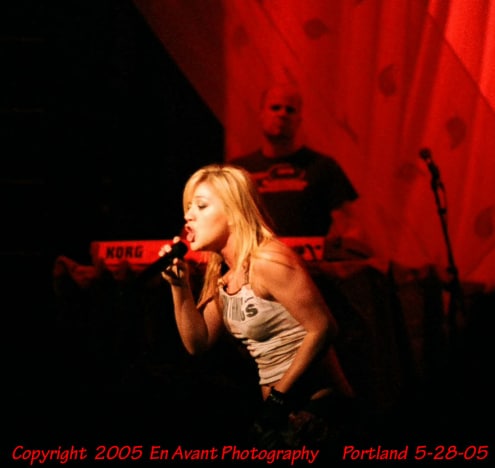 Diana DeGarmo, season three runner-up, sold 161,574 copies of Blue Skies before she began headlining on Broadway as Penny in Hairspray. Season one runner-up Justin Guarini has struggled a bit more with sales of 142,130 for his first CD, Justin Guarini, and is currently marketing an online jazz CD to try to revive his career.
BUT WHY SHOULD YOU CARE about a reality TV program, for crying out loud? And does it matter if you watch and vote for your favorite?
Surprisingly, it does matter. Complacent fans who thought that their favorite was "safe" and neglected to stay awake and vote, often see the disastrous consequences on the Wednesday night results show. Each season has produced a singer who should have stayed several more rounds due to the laziness of their fans.
Others have stayed way beyond their talent level due to quickly organized fan groups who put their fingers to the phone and power voted. And that brings up a common beef -- that the voting is rigged. Ask any Aiken fan if the voting is rigged, and you will get your ears blown off! The argument surfaces each year. Watch to see what you think!
Does it matter in the grand scheme of things if you watch, vote and invest yourself? It certainly does to those 12 lives standing on the stage! While the winner earns $1,000,000, making it to the top four usually guarantees a record contract and bookings -- and sometimes wildly successful career changes.
Former waitress Kelly Clarkson is now a double Grammy Award-winning, globe-trotting pop superstar.
Single mother, school drop-out Fantasia Barrino is a millionaire.
Country starlet Carrie Underwood was just nominated for four Country Music Awards, won two, in addition to a Dove Award.
Season Two winner Ruben Studdard and Season Three winner Fantasia Barrino were each nominated for a Grammy, though Ruben's runner-up, Clay Aiken, has eclipsed them both in sales and popularity.
When was the last time that you were able to directly influence the direction of a young person's life who you didn't even know? It's power, people! While watching American Idol may not change your TV viewing habits or lifestyle, it directly changed mine. A certain red-haired, freckled geek named Clay Aiken, who morphed into a powerhouse performer before America's eyes, has taken control of my leisure time and wallet.
I have "Clayfan friends" around the country and overseas. Locally we meet monthly to fellowship and plan concert trip itineraries, pre-concert parties, and CD release gatherings. We organize fundraising activities for Clay's Bubel/Aiken Foundation for inclusion of the disabled. As a group we now sponsor a Ugandan child after Clay's trip as a UNICEF Ambassador to Uganda highlighted the plight of the Night Commuter children in that country.
My computer skills have grown exponentially due to the help of the "techies" on the online fan boards where I post and display my concert pictures. We cook for each other after hospitalizations, exult together in the births of children and grandchildren, pray each other through rough times, and fly cross-country to meet-up at concerts -- and it is all because of a TV program that brought us together.
Is it Tuesday yet?!
Matt Richenthal is the Editor in Chief of TV Fanatic. Follow him on Twitter and on Google+.